Hi there,
Bonjour à toutes et à tous,
Here is the current status about my two TPSC Sdkfz set of kits.
We will talk both about ausfd C (the one that make me discover that company - 1 box - 5vehicules) and the ausfd D that I received beginning January (3 boxes - 15 vehicules).
Voici le statut à propos de mes Sdkfz(s).
On parlera des versions C (celle qui m'a fait découvrir la marque - 1 boite - 5 vehicules) et D (que j'ai reçu début Janvier - 3 boites - 15 véhicules)
We will first see a quick Workbench status, then will detail verhicules, included team, stowage and extra weapons.
On fera un rapide état d'avancement, puis on détaillera les véhicules, l'équipage, les accessoires et l'armement complémentaire.
A workbench status...
Un état de l'art...
Yesterday I painted interiors, put driver and co-driver, then I assembled lower and uper hulls. undercoat was ever done using
TAM-XF60
with an aerograph. Then, I put towel paper so to hide interior for cammo.
Hier, j'ai peint les intérieurs, placé pilote et copilote, puis ai assemblé les deux parties du véhicule
.
Ensuite j'ai masqué les intérieurs avec du PQ, en préparation à l'application du camouflage.
Then I did the Cammo using TAM-XF64 and GUNZE-H303. I applied same pattern on all (ausfd C & D).
Ensuite, j'ai appliqué le camo sur un pattern de base (1/3 de chaque couleur) en utilisant du TAM-XF64 et du GUNZE-H303. Les mêmes principes de camo furent utilisés pour tous; (ausfd C & D).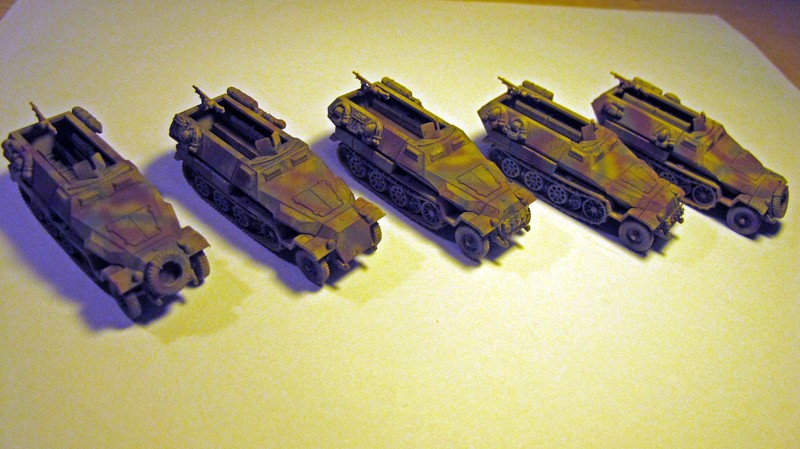 Here are the 5 Sdkfz 251 C just out of cammo step. When I assembled them I glued the rear MG42 I sould have not. When masking interior it makes things harder (in fact I broke one of them - that I obviously reglued... ;-))
Voici les 5 Sdkfz 251 C après camouflage. Lorsque je les ai assemblé j'ai mis en place la MG42 arrière, ce qui est une erreur, car en ôtant le PQ de masquage j'en ai cassé une (que j'ai recollé dans la foulée... ;-))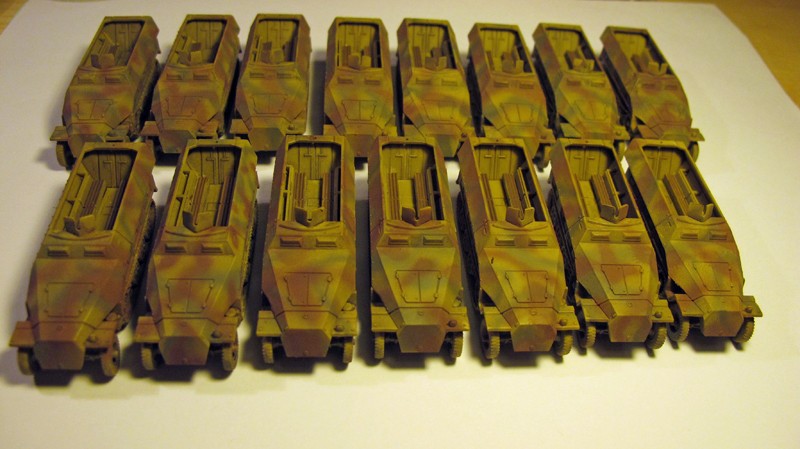 Here are the 15 Sdkfz 251 D out of cammo step. I did not make the mistake gluing rear MG in place, that was a good idea.
Ici, les 15 Sdkfz 251 D une fois lme cammo fait. Ici je n'ai pas fait l'erreur de coller la MG42 arrière.
TPSC Sdkfz 251 ausfg C in detail...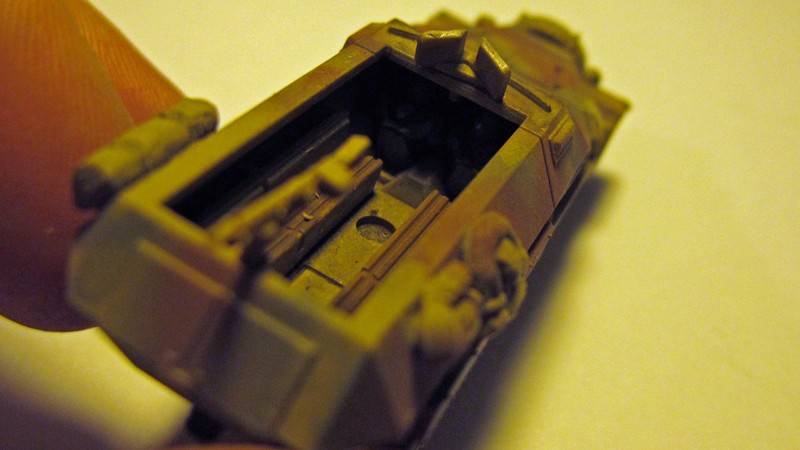 Ok, so here and thereafter are few pictures about aufsg C release. Those are the ones I first built, and stowage was assembled before painting. Currently, there is still a lot to do : painting the stowage, armament, crew, tracks, wheels, etc... and obviously marking and weathering....
However, here it is at current status.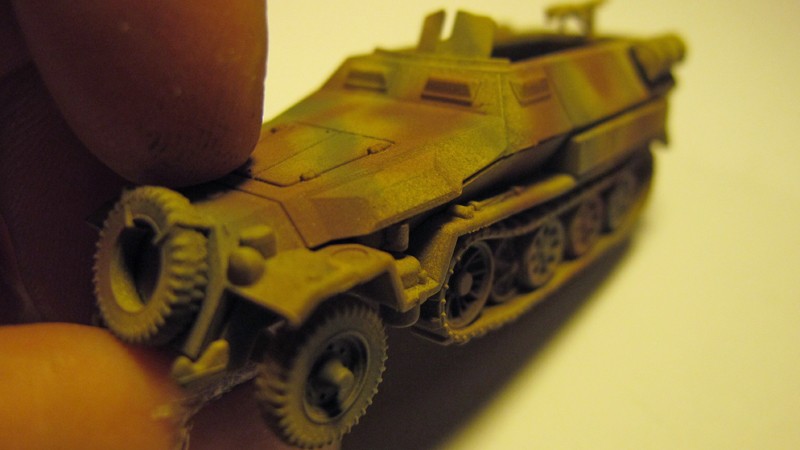 Donc, voici quelques images du modèle C. L'équipement et la mitrailleuse arrière ont été collées avant la mise en peinture, ce qui était une erreur. Actuellement, pas mal de trucs restent à faire : peinture de l'équipement, l'équipage, les chenilles et les roues, et naturellement, le marquage et la patine.
Quoiqu'il en soit, voici où j'en suis actuellement...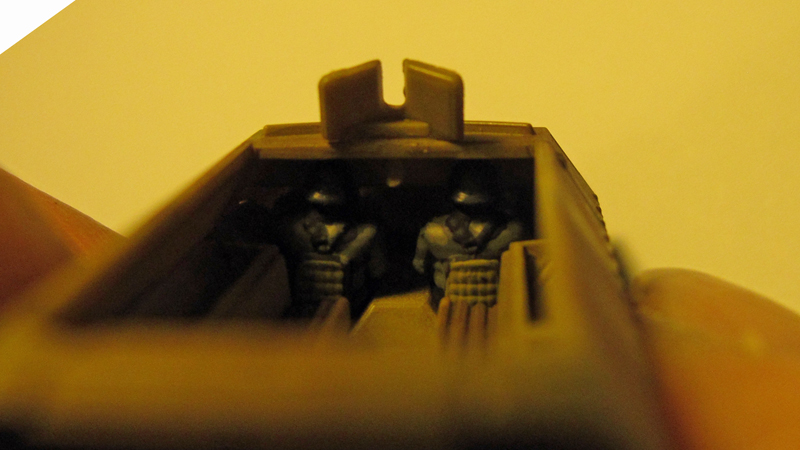 TPSC Sdkfz 251 ausfg D in detail...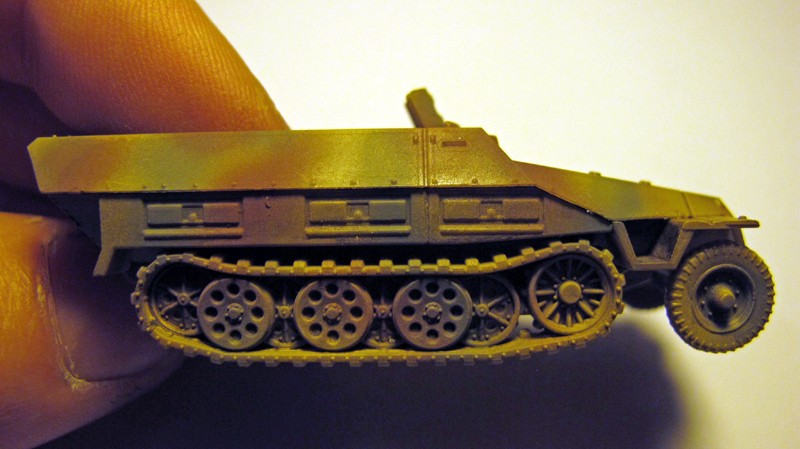 OK, so now the D variant.
There is a little trap (I obviously fall into ;-)), that is an ejection pin on the interior lower hull, at the rear, near to the rear doors. I thought it was a guide, in fact it should be removed prior to floor gluing. That would have make the thing better, but so far, no real issue...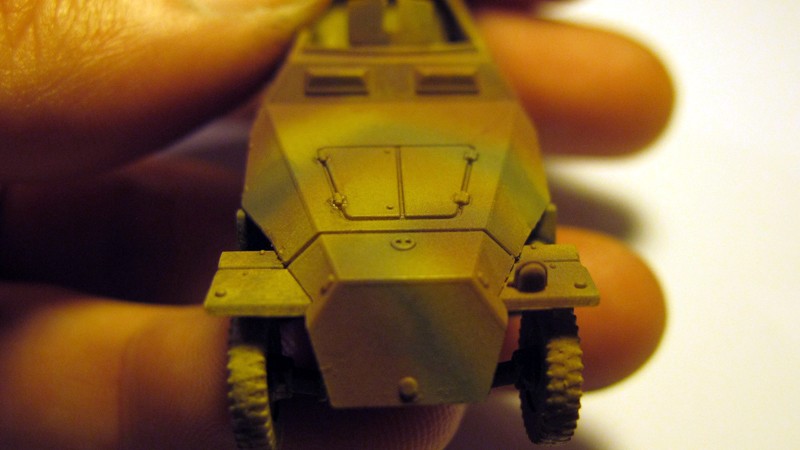 Donc, maintenant la version D.
Il y a un petit piège (dans lequel je suis naturellement tombé ;-)), à savoir un plot d'extraction qu'il aurait fallu supprimer à l'arrière de la partie intérieure de la coque, au niveau des portes arrières. Quand on colle le plancher, on se retrouve avec des jonctions banc/dossiers un peu trickies... mais rien de bien grave... juste un peu de temps ...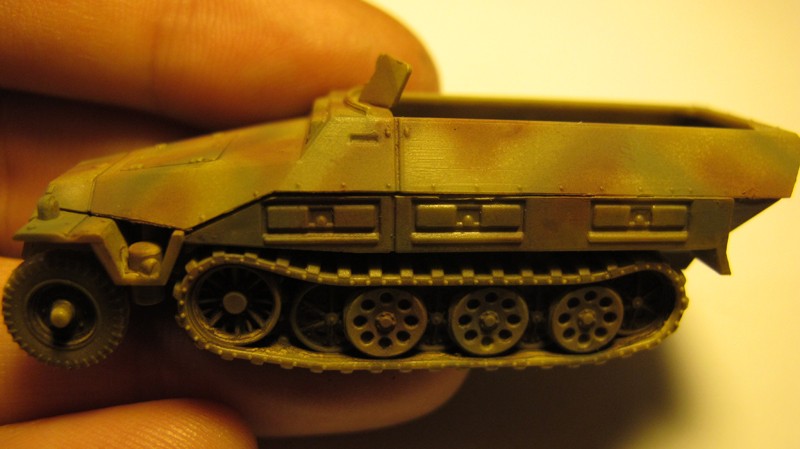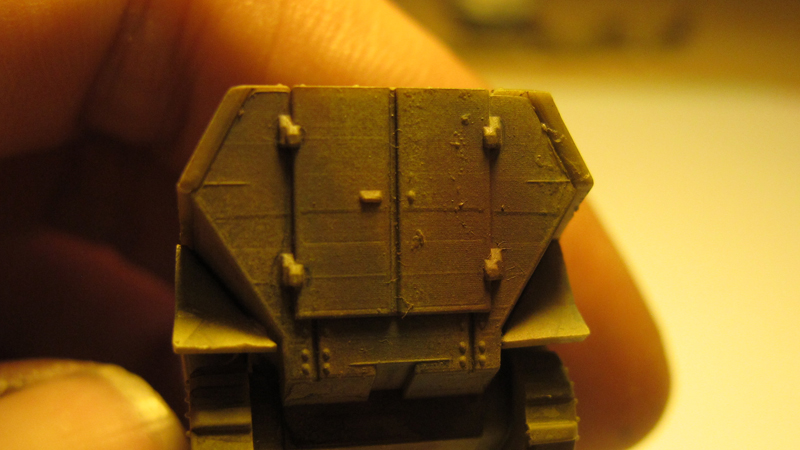 Crew, Stowage and armament...


You have one of each of those per vehicule ! (so 5x a box)


Equipage, Equipement et Armement...

Ce qui suit est présenté par véhicule! (so 5x a box)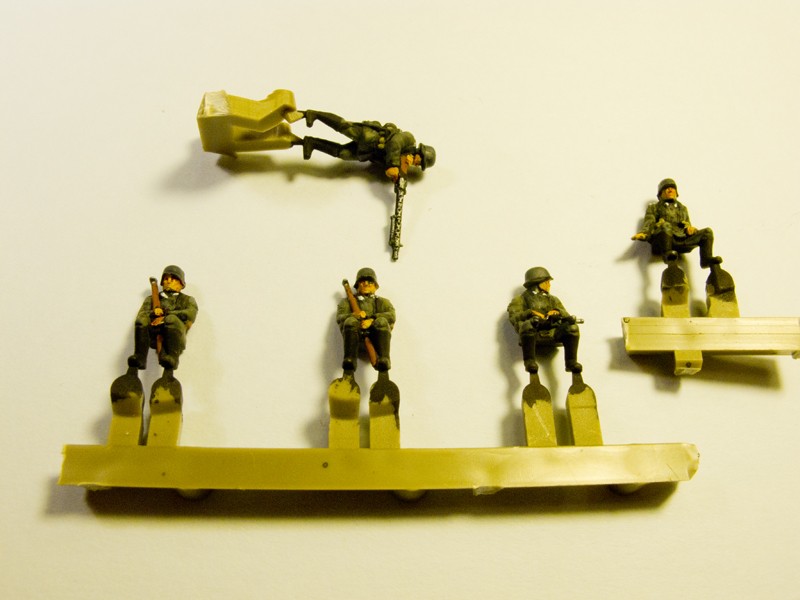 Here is the crew, except the driver and co-pilot I ever glued in my models.
I choosed the option having an active gunner for front MG. Bear in mind, those are fast painted wargaming miniatures. However, look at that stuff...
Donc, voici l'équipage, excepté le conducteur et son co-pilote déjà collés dans les véhicules.
J'ai choisi l'option d'avoir la MG avant avec son servant. Ils sont peints en mode "fast-paint", pour wargame, mais jetez un œil et imaginez ce que l'on eput en faire....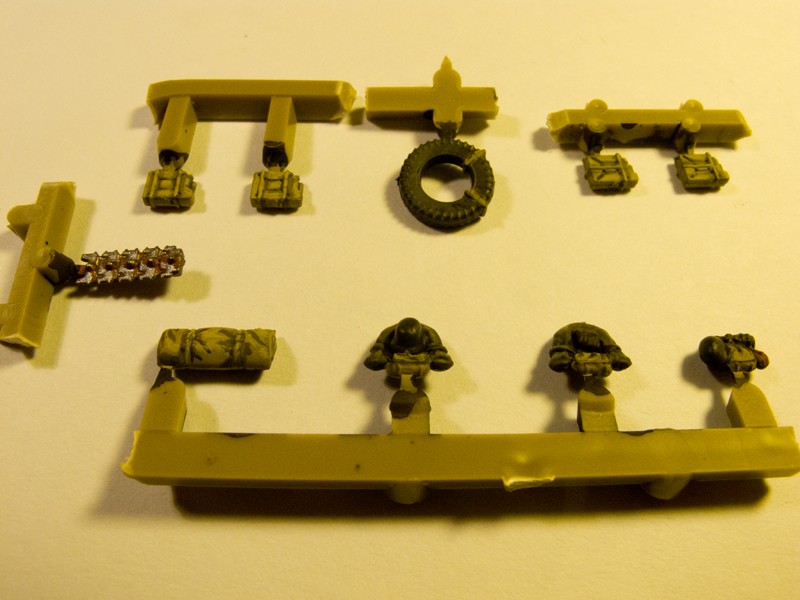 Various stowage : for each vehicule you got one spare tire, one spare track, 4 fuel jerrycans, three back packs and the rolled soft top cover... Nothing less than generous, isnt'it ?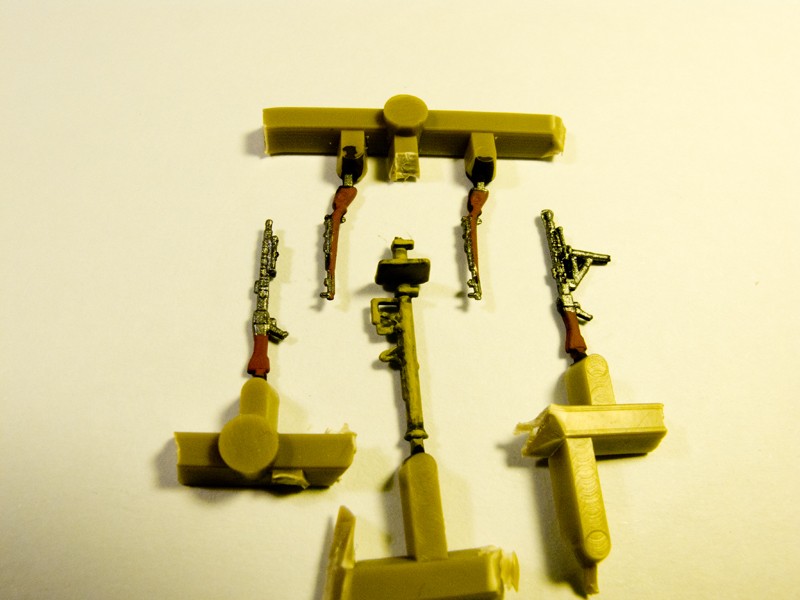 Equipement Divers : Pour chaque véhicule on dispose d'un pneu et d'une chenille de rechange, 3 sacs à dos et la bâche de véhicule roulée... Rien de moins que généreux, non ?
Now, the supplemental armament... a cherry on the cake.
Per vehicule, here we have a panzerschreck, two Karg 89 rifles, the rear MG42 and a spare front one in case you would not choose option having it served...
Maintenant l'armement... une vraie cerise sur le gâteau...
Pour chaque véhicule on dispose d'un panzerschreck, deux fusils Karg 89, la MG 42 arrière, et naturellement une MG42 non servie pour l'avant au cas ou vous ne souhaiteriez pas mettre de servant...
Conclusion and Next Steps ...


Conclusion et étapes suivantes...
I am really impressed by those models, quality (and quantity) of personnalizing stuff.
Next step will be to end up core vehicule paintings (tracks, wheels), end up with all teams and stowage.
Then will come weathering... but for that I am waiting for TPSC to launch it's set of German decals, that should occur that month...
Bon, vous devez vous en douter : je suis content de ces modèles. Très content même...
La suite ? Et bien finir la peinture de base des véhicules (chenilles, roues), peindre les 19 équipages et les 15 sets d'équipements qui me restent, puis... la patine.
Pour ça j'attendrais que TPSC sorte les décals 15mm pour les blindés allemands (annoncés pour ce mois ci !).
In the meantime, have all a great evening, and blog you soon,
Cheers,
Dans l'intervalle, une bonne soirée, et à bientôt sur ce blog,
A+,
Bruno.