Hi there,
Bonjour à toutes et tous,
1. Initial discovery /

La découverte...
By past November, I had a business meeting close to my prefered model shop. So, as it was close to 6PM, I went to have a walkthrough just to change my mind... I found boxes of 1/100 WWII models, also known as 15mm. Was not aware such thing was existing... time to get out of that f.ck.. biz bubble, so I bought two of them : 1 Panzer IV box and 1 Sdkfz 251/A, 5 models per box, around 20 Euros each box.
En Novenbre dernier, j'ai eu un RV client à deux pas de mon magasin de maquette préféré. Comme j'en suis sorti vers 18h00, je suis donc allé y faire un tour, histoire de me changer les idées. Là, j'ai découvert des modèles WWII au 100eme, donc 15mm. Pour voir j'en ai pris deux boites : 1 panzer IV, et 1 Sdkfz 251/A, 5 véhicules par boite, une vingtaine d'Euros la boite...
Once home, I had a look at them and was simply "blasted" by the very high quality, in addition of having five vehicules a box, 1/3 of the price of lower-res lead models was a real bargain... wow...
A peine rentré, j'ai naturellement jeté un coup d'oeil, et là ça a été le choc : Au lieu de "jouets" je me suis retrouvé devant de vrais modèles finement gravés en creux, au tiers du prix des "blobs" en plomb que l'on voit trainer sur les tables... wow...
So I started assembly with one Pkfz. Was a kind of Tamigawa thing, sono flash, no traps, real clean stuff. As there was few parts it was a quick step and great result. Then I built the 4 remaining Skfzs, and move to the Pz IV, built on the H version (one single box let you built 5 (or mix of) any variant from F1 to H...)
J'ai donc commencé par assembler un Pkfz. C'était un peu comme du "Tamaigawa", pas de bavure sur les grappes, un assemblage nickel, bref, un truc super propre. Dans la foulée j'ai embrayé sur les 4 Sdkfz restants, puis suis passé aux PzIV, un premier pour voir, les quatre autres dans la foulée.... J'ai choisi de monter des Pz IV H, mais la boite permet de réaliser n'importe quelle variante depuis le F1...
Here are the pics once core painting was done for the Pz IV (weathering at half way as I do not have decals yet - still fading and mud stuff to do)
Voici les images des Pz IV avec un vieillissement partiel du fait de l'attente de décals... Voiles et pigments restent à venir...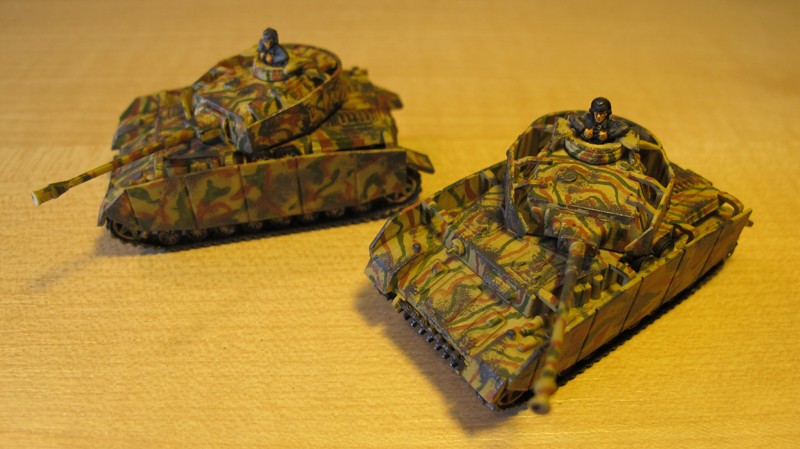 Here, the little 5 of them...
Ici les 5 chars de la boite....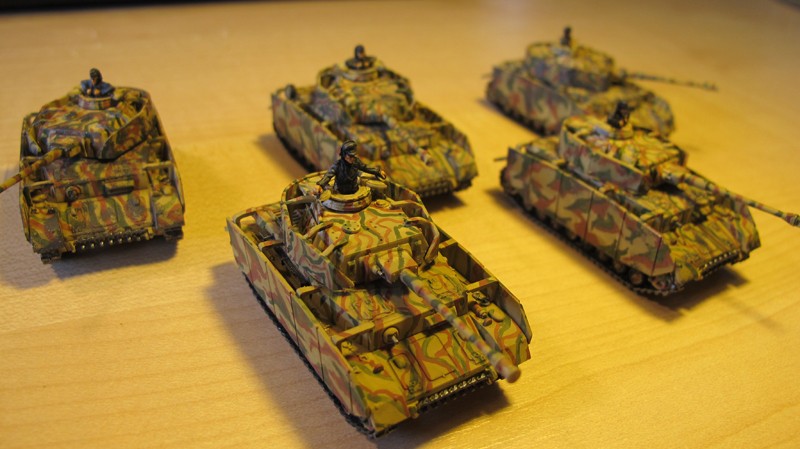 Here are the Fdkfz, with only a sand undercoat... because... they have brothers to come.
Please bear in mind that upper/lower hull are not glued yet
: this is just a dry fit testing for picture purpose as painting will be easier withe both of them being independent.
Ici les Fdkz, simplement sous-couchés en jaune sable parce que... on en reparlera plus loin...
Gardez à l'esprit que les assemblages sont faits à blanc

: La raison en est que les parties hautes/basses de la caisses seront peintes indépendamment (intérieur) pour faciliter le boulot
.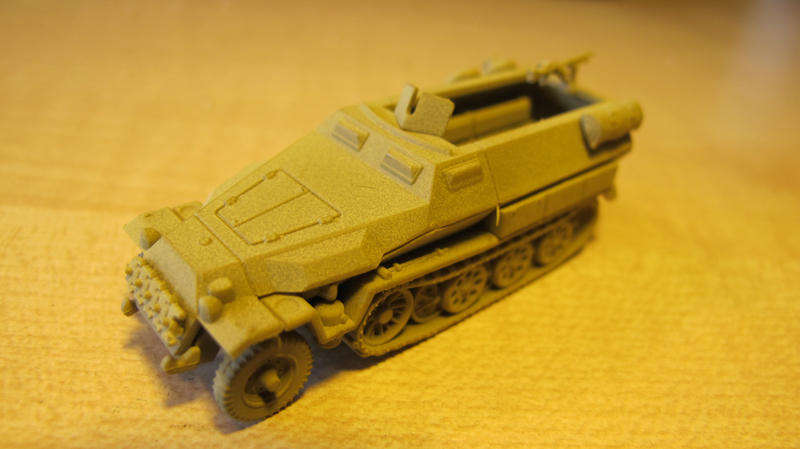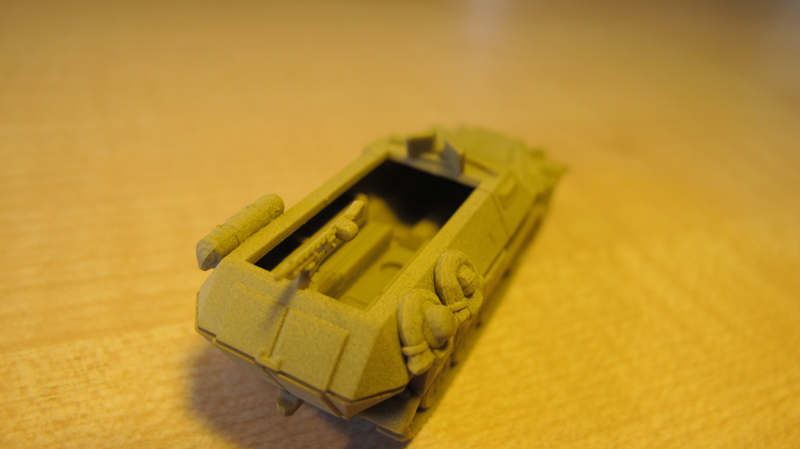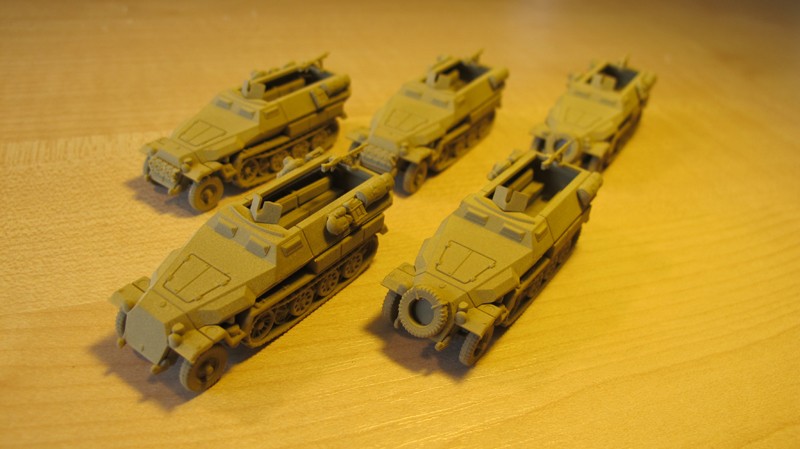 2. Post hard times /

De la poste et des délais associés

...
So, seing that, I ordered online to The Plastic Soldier Company for a German company deal and some rusian KV1s.
That was Christmas time (order done on December 6th).
I worried a bit as my order just arrived on Jan. 3rd.
However, TPSC was perfectly fine : on Royal Mail stamp, sent date was 8th December, and package was nicely arranged. So, not their fault... (in case some of you would still be waiting...)
Is the root cause Christmas time ? Royal Post or french PTT relay in France ? realy... who cares : I get it, TPSC did the job as commited to, and I'm really happy.
Donc, voyant ces petites merveilles, j'ai passé commande auprès de The Plastic Soldier Company via Internet pour une panzer compagnie allemande et quelques KV1s.
C'était la période de Noël, j'ai passé ma commande le 6 décembre et ne l'ai reçu que le 3 Janvier. Entre les deux, je me suis un peu inquiété, forcément, mais lorsque la commande est arrivée, en regardant le timbre Royal Mail, j'ai bien vu "by plane" envoyé le 8 Décembre.
Donc, au cas ou comme moi vous attendez une commande, pas de panique : TPSC respecte ses engagements, RM ou nos PTT en relai en France peut être un peu moins...
3.
OK, so, what are we talking about /
OK, bon, de quoi on parle exactement .
..
...well... we are talking about the following :
15 Sdkfz 251/D (3 boxes)

10 Pz IV (2 boxes)
115 late german infantry (1 box)
As you may guess, I did not wait starting with the 15 Sdkfz...
And here I am so far (yesterday evening fun).
.
.. bin... on parle de ça :
15 Sdkfz 251/D (3 boxes)

10 Pz IV (2 boxes)
115 late german infantry (1 box)
Comme vous devez vous en douter, je n'ai pas pu attendre et ai attaqué direct les 15 Sdkfz...
Voici où j'en suis en une une soirée (hier)
.
Here is the painting guide on the rear of the bow. One real cool thing is that it's related to Vallejo/PA colors...
Voici le guide de peinture à l'arrière de la boite. Le truc top cool est que toutes les couleurs dont données en correspondances Vllajo/Prince August...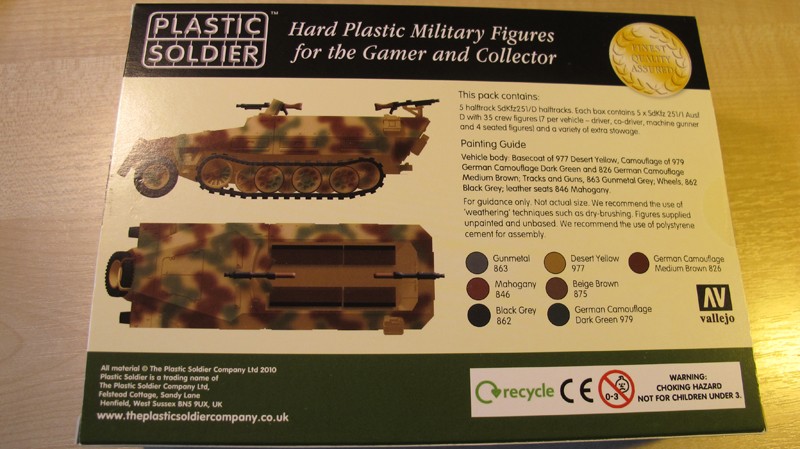 4. Assembly guide... /

Notice de montage..
Perhaps the only "oops" of those wonderfull kits. It's rather "... symbolic..." (?). With Sdkfz you have no variants, but with Pz IV, it's somewhat different... However, just let's build one for testing and you'll see you don't really need that much more (except good will ;-))
Peut-être ma seule réserve : Elle est vraiment primaire. Pour un Sdkfz ça le fait bien, mais quand on a plusieures vraiantes (PZIV) dans une même boite, ça devient un peu compliqué. En fait il suffit d'en assembler 1 pour piger le truc, et les quatre qutres de la boite suivent comme une lettre à la poste... (enfin, si elle tient ses engagement, la poste... ;-) )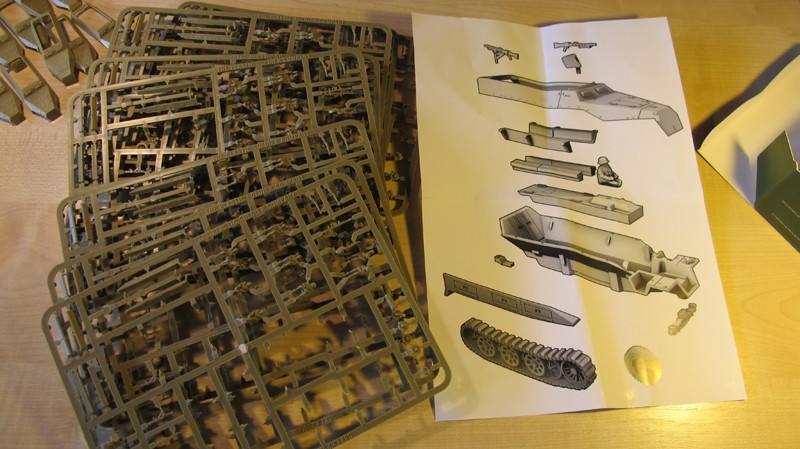 5. Crew and stowage ... /

Equipage et équipement...
Yet another thing that is cool is the amount and quality of stowage and crew...
One serving gunner, several seating crews (in natural postions), lot of back packs, jerrycans, tracks parts, spare tires, two Karg89 rifles, 1 panwershreck, etc...(for each model - x5 in a box...) you have anything to make each of them unique...
Un autre truc trop cool est la quantité et la qualité des accessoires et de l'équipage...
Un servant opérationel pour la MG42 frontale, plusieurs membres assis dans des postures naturelles, un tas de sacs à dos et divers bardas, des segments de cheniile, des pneus de rechange portés sur la calandre avant, 2 Karg 89, 1 pansershreck, etc... (et ce pour chaque modèle - 5 par boites...). De quoi faire chaque unité unique... et garnir la boite à rabiot pour des dios ou autres...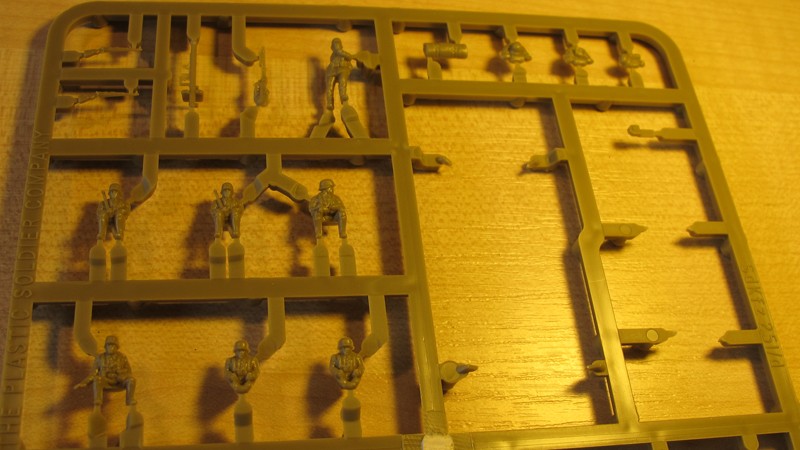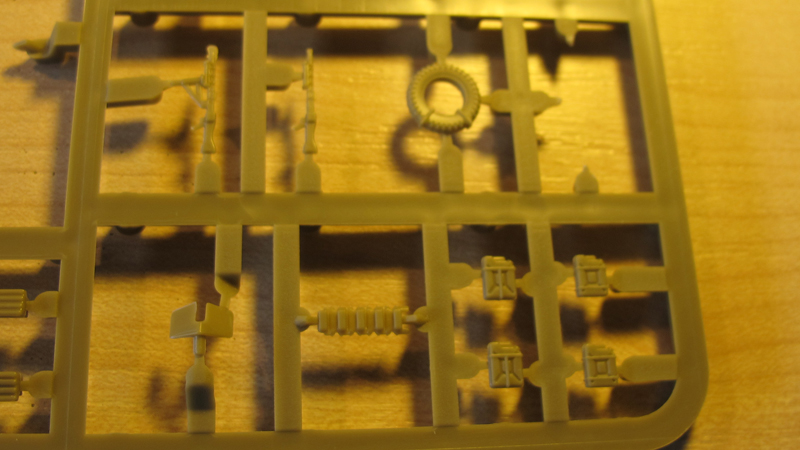 So what next ?
... well I think I will start a thread about the built/painting/weathering of those Kfzs...
... also a review of PzIV (there is one trap when going to H version ;-))...
... Obviously, doing the review of late German infantry...
... but, well, right n ow, I will just go to sleep. ;-)
La suite ?
... partager la construction, la peinture et le viellissement des Kfzs...
... une revue des PZIV (...et un truc pour eviter un piège quand fait la version H)...
... et surtout : une revue des figurines d'infanterie Allemande fin de guerre, qui sont vraiment fabuleuses...
... mais bon, c'est pas tout ça,
c'est l'heure du dodo là...
Cheers,
A+,
Bruno.