So, here is a delayed post coming at last...
(fr) Tout arrive, même un post bien après la deadline annoncée...
I have made experiments in basing and go to 2cm frontage definately.
Any mini will be based independantly, and there will be carrier bases to
support them. (that is what a carrier was meant to at a time ;-) )
(fr) j'ai fait pas mal de tests. J'en suis arrivé à baser chaque fig. en 2x2 cm et
créer des sous bases pour les grouper par 4, 6 ou 8.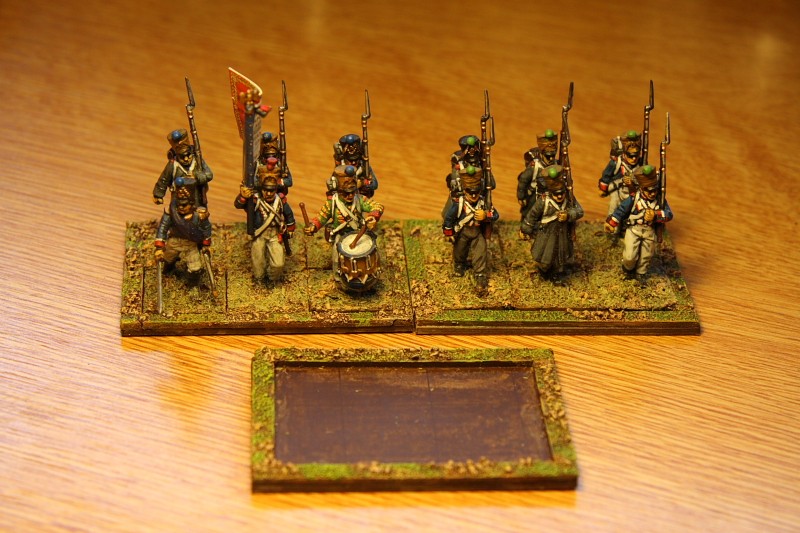 Here is a picture of my first bases, with 5 mm border. I feel it's far too
deep, wasting unit coherency when they are putted together
On the picture you will see an empty carrier at first rank.
(you can see the 1cm huge gap between two companies, illustrated here by
some Perry's plastic frenchies)
(fr) ci-après mes premiers test, avec une bordure de sous-base de 5 mm.
Donc 1 cm d'espace entre deux compagnies. Perso, je trouve que ça gâche un
peu le "look" d'unité. Les minis sont les Français plastiques de Perry en 28mm.
I tried making the gap smaller : 2mm border, meaning 4 mm additional space between companies. Thereafter is a simple shot of the result. I tried making the cardboard looking like wood by applying acryliv wood varnish, but the result did not match my espectations. I will probably paint them plain color, black, or brown...
Minis are some of my plastic Victrix Highlanders.
At first rank an empty carrier base.
(fr) J'ai donc réduit le bordure de 5 à 2 mm. 4 mm de gap entre deux unités semble plus raisonnable. Pour la couleur des bordures, j'ai essayé un rendu "bois" en utilisant du vernis acrylique. Le résultat ne me convainc pas. Pour la suitte, probablement un noir satin ou
un marron neutre.... on verra.
Les figs sont les highlanders Victrix.
Au premier rang une sous base vide, pour example.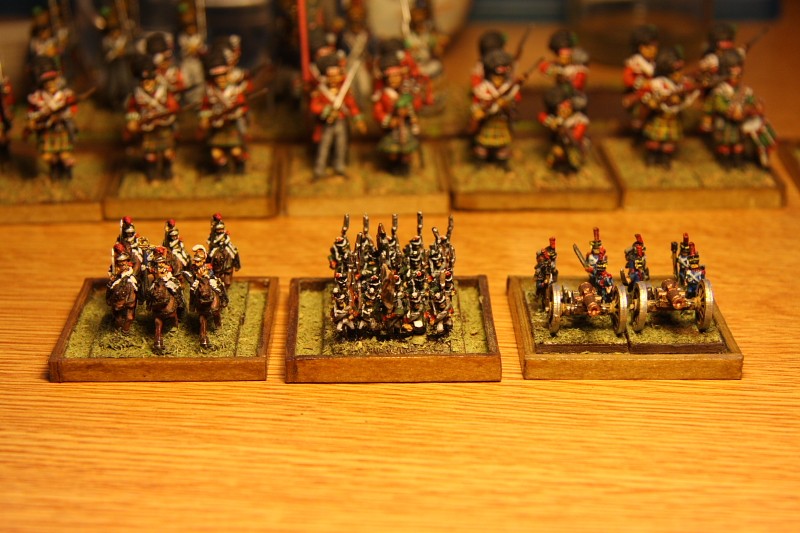 Last but not least, reuse of carrier bases at 10mm scale.
To make gaps acceptable (minis bases are smaller than carrier base in one direction), I put some "grass" on it. I like the look they have.
As a test, there are a French carabinier (1812), a Russian line infantry, and a French 8pdr foot battery.
Funny to see scale difference in the background with 28mm stuff...
(fr) Enfin, une réutilisation des sous-bases pour des minis. au 10mm.
On y trouve deux plaquettes de carabiniers Français, d'infanterie de ligne Russe,
et une(mini;-)) batterie Française à pied de 2 pièces de 8. Leurs socles étant pls petits que la sous base dans une direction, j'ai floqué la sous base pour rendre le "jour" acceptable. J'aime bien le résultat.


Bruno.