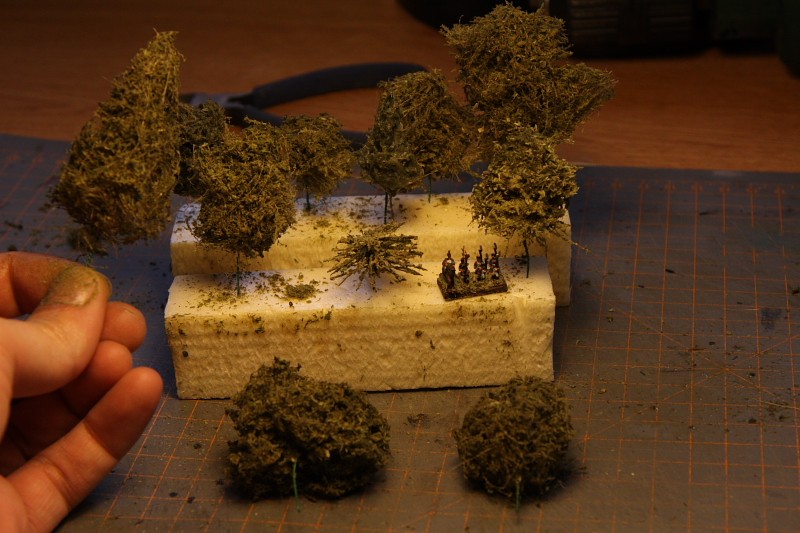 Hi there,
Waiting for my first 6mm real division to come, I've started building some terrain when, at a moment, they will have to proove their value;-). Browsing a nice 6mm forum (
angel barracks
) I found a post pointing to a
video showing stunning way making trees
. So, I invented nothing, but would like to share my first attempts and to recommand this technic to any people. (I guess such a tree is less than a Euro cent to build, absolutely stunning, and very, very fast to do...)
(fr) Dans l'attente de mes premières divisions en 6mm j'ai commencé à bosser sur des terrains appropriés à l'échelle. En parcourant un
super forum dédié au 6mm
je suis tombé sur u
n post pointant une vidéo
montrant comment réaliser des arbres super-réalistes à cette échelle. Donc, je n'ai rien inventé, mais souhaite simplement partager mes premiers pas dans ce domaine. (un arbre coute probablement moins d'un cent d'Euro à produire, a un look ultra-réaliste, et est très rapide à faire....)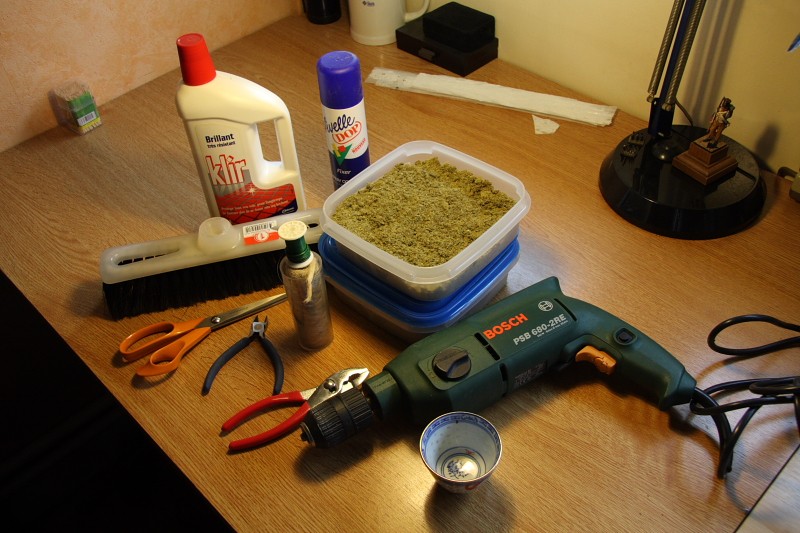 Here is all you need to build hundreds of them. First you need a drilling machine with speed regulation that will be used at the lowest possible speed. Except this (that is somewhat expensive) all furnitures are very cheap :
- 1 fixing hairspray, between 2 and 5 Euros.
- some tainted wooddust for flocking (free if asked with a smile at your local wood store with a cutting machine, then tainted with low cost acrylics (green - blue - brown - yellow in various mixes)
- some oakum (?). Not sure of the English word : This is used in plumbing for etancheity and cost very few as well.
- one toothpick (;-))
- some metal wire.
- few common tools : cuting and regular pliers, cissor, and something in wich to put water
- some Johnson excellent Klir floor varnish to fix the tree once done if you have an aerograph, otherwise a matt varnish or fixing spray.
(fr) Sur la photo précédente tout ce dont vous avez besoin. Primo, il faut disposer d'une perceuse à variateur que l'on utilisera au minimum possible de vitesse de rotation. Mis à part la perceuse, l'équipement requis est vraiment low-cost :
- 1 bombe de hair-spray, fixation forte de préférence. (Elle ne suffira pas à sceller le flocage de toute façon, voir plus loin....)
- Du flocage : perso j'utilise de la sciure de bois teintée avec des peintures acryliques de base. Mis à part la peinture, elle ne vous coutera qu'un sourire à l'atelier de scierie ou découpe de bois le plus proche.
- De la filasse de plomberie. Ca se trouve dans toutes es grandes surfaces de bricolage et coute une poignée de rillette pour des centaines d'arbres potentiels.
- 1 cure dent. ;-)
- Du fil de fer de petit diamètre.
-Des outils courants : pince standard et coupante, ciseaux...
- Du Klir de Johnson pour fixer les arbres une fois terminés (si vous disposez d'un aérographe, sinon une bombe de vernis mat ou un fixateur)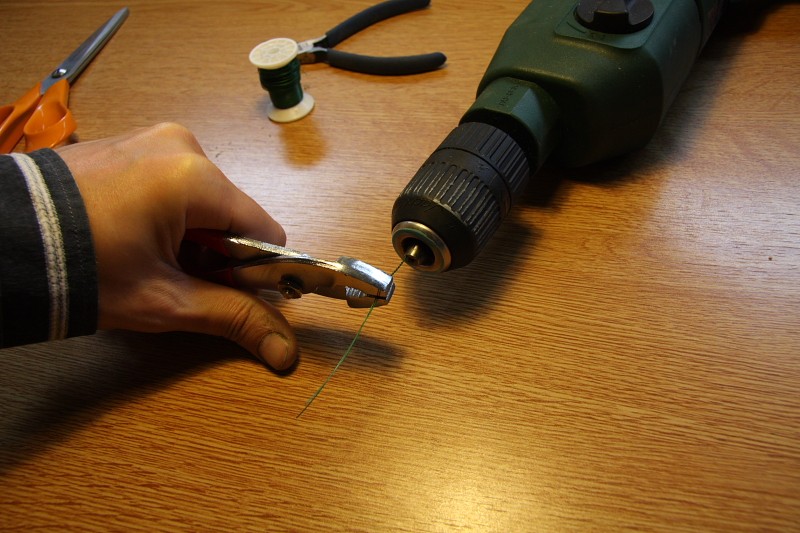 So, first step is to cut a part of metal wire, fold it in twice, then out it in the drilling machine and turn the trunk. One trap I realized by falling in is to make a too small trunk. Don't forget it will be easy to cut it if too long, but if too short, nothing can be done... and it will have to be based.
Use the plier to hold the limit of the trunk, and make the drilling machine running as slowly as possible. As ever with such tools think safety first !!! It is not because no visible potentially harming stuff is around (such as a drill) that you should forget about safety.
(fr) La première étape est de couper un bout de fil de fer, de le plier en deux et de le bloquer dans le mandrin de la perceuse. Avec la pince, maintenir fermement les deux brins à hauteur de tron (sous les premières branches à venir) et torsader le tronc en faisant tourner la perceuse
très doucement
. Une erreur commune est de trop torsader, ou encore de faire des troncs trop courts. N'oubiez pas qu'il faudra socler, que vous pourrez toujours raccourcir le tronc, mais pas le rallonger... Enfin, important :
Sécurité avant tout
- Le fait qu'il n'y ai pas de foret engagé ne doit pas vous empêcher de penser sécurité. Imaginez le résultat avec la vitesse au max, perussion engagée ... le fil de fer n'est pas fait pour apprendre à voler, et vos yeux ne sont pas faits pour être crevés...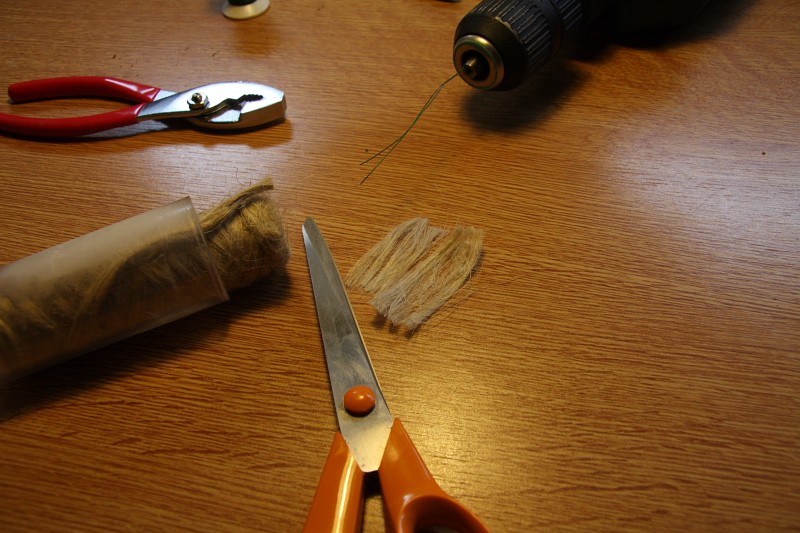 Once your tronk is done, cut one (or more) small length of oakum(?) with scissors. Then, flatten it as shown in the picture. I put the longer length at the base (longer branches) and eventually put several layers, depending on how much you want your tree to be bulky.
(fr) une fois le tronc torsadé, couper une (ou plusieurs) petites longeures de filasse avec des ciseaux. L'étaller comme montré sur la photo. Eventuellement tester plusieurs "couches de filasse" entassées dépendant de l'épaisseur souhaitée pour la ramure. Pensez à mettre les filasses les plus longues en bas.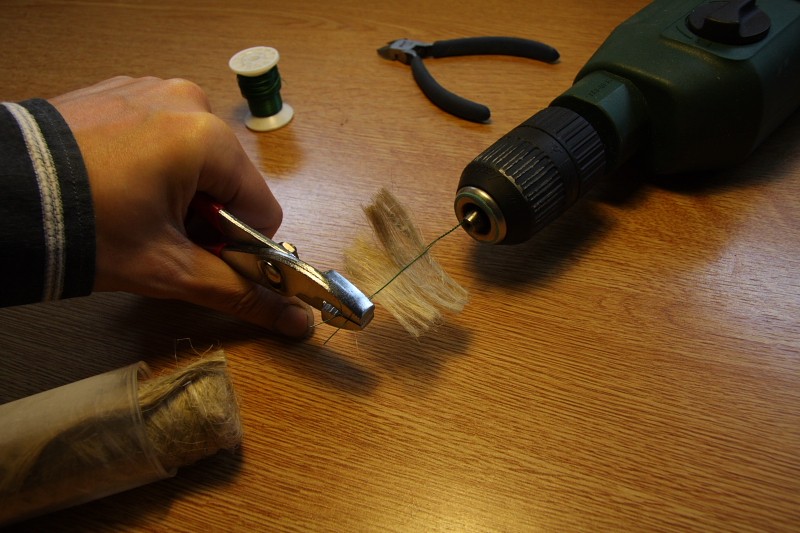 Next step is to put the Oakum(?) between the two metallic wires and hold the two firmly with a plier. You do not need to hold your pliers at the top of your tree and can let some space as this will be cutted later.
(fr) Ensuite, on coince la filasse entre les deux brins de fil de fer et on tient le tout avec la pince. Nul besoin de tenir juste à la cime de l'arbre, bien au contraire : laissez de la marge, on coupera le surplus plus tard.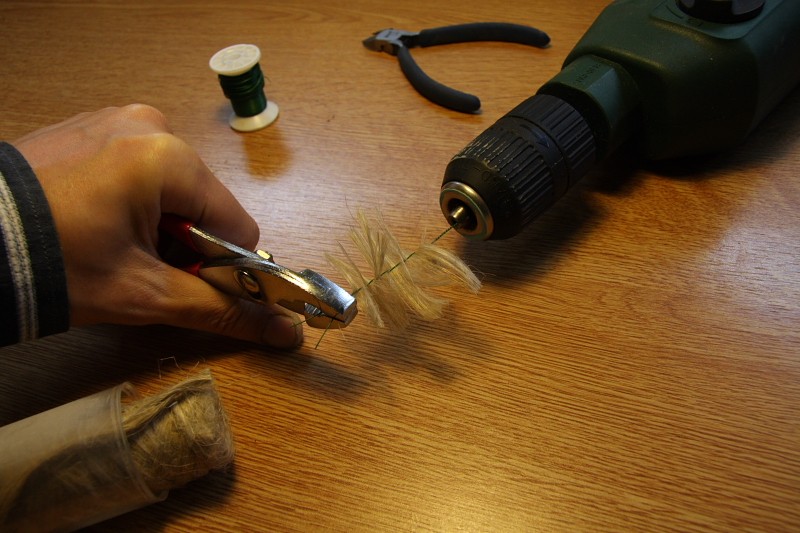 Then, operate the drilling machine very slowly. This is important because the Oakum could wrap around the trunk, so if that happen,
first stop drilling
, then use a toothpick to disengage the Oakum from the wires, and continue drilling.
(fr) Lancer la perceuse à vitesse très réduite. C'est important car la filasse pourrait s'enrouler autour du tronc pendant le vrillage. Si cela se produit,
arréter la perceuse
, puis, avec le cure dent, dégager la filasse. Ensuite, reprenez.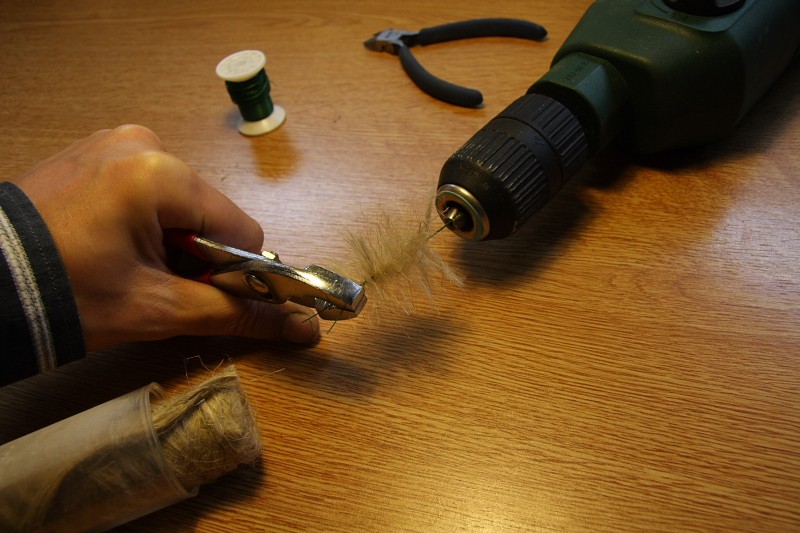 Here we see the tree borning. Do not hesitate to have a real tightened structure, even if it leads you to broke the wire, either from the plier side or the drilling machine side. If it is not tightened enough the Oakum will escape the structure later on.
(fr) Ici, on voit l'arbre naitre. N'hésitez pas à avoir une structure vraiement très torsadée, même si cela conduit à la rupture du fil de fer au niveau de la pince ou du mandrin de la perceuse. Si les vrilles ne sont pas assez serrées la filasse ne tiendra pas suffisamment en place.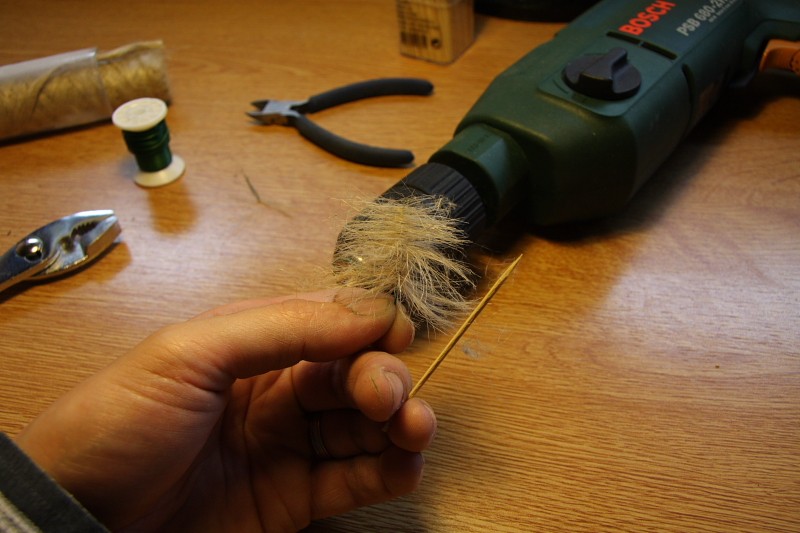 Once you are OK with the result, disengage the tree from the drilling machine, cut the top, and use a toothpick to arrange possible bulky cluster.
(fr) Une fois que le résultat vous convient, désengager l'arbre de la perceuse, coupez la cime, et utilisez le cure dent pour démeller les éventuels amas de filasse.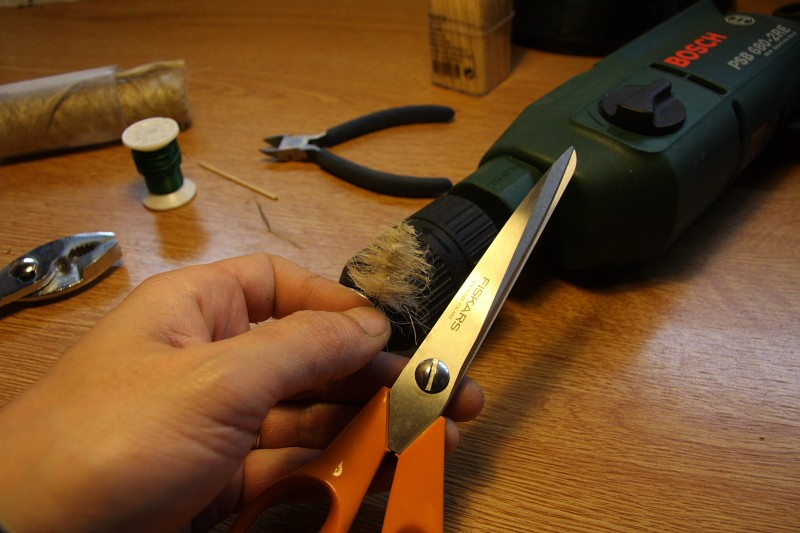 Then, before hair spray, hair cut... (so logical)
Shape your tree with your scissors.
(fr) Avant le spray, une petite coupe ?
Mettre l'arbre en forme en taillant la filasse avec vos ciseaux. Encore une fois, le mieux est l'énemi du bien : ne taillez pas trop court.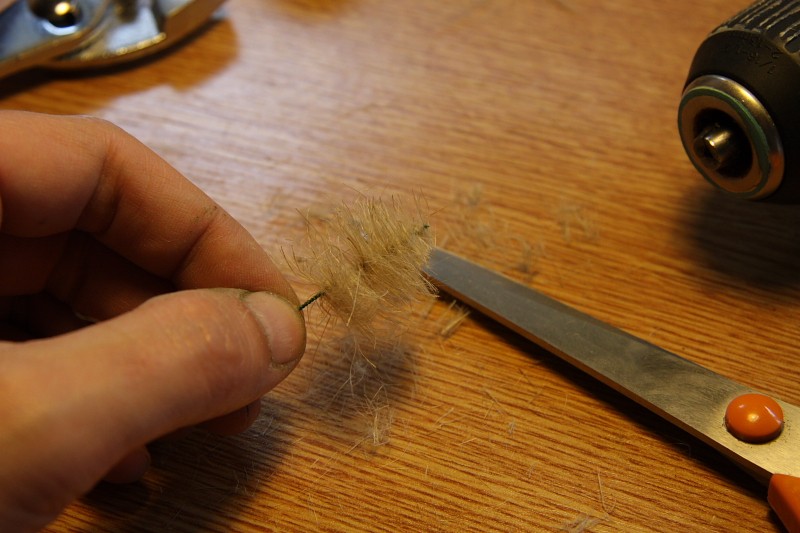 ...Up to get a shape you like....
(fr) Ici la forme finale que j'ai retenue pour l'exemple de ce post.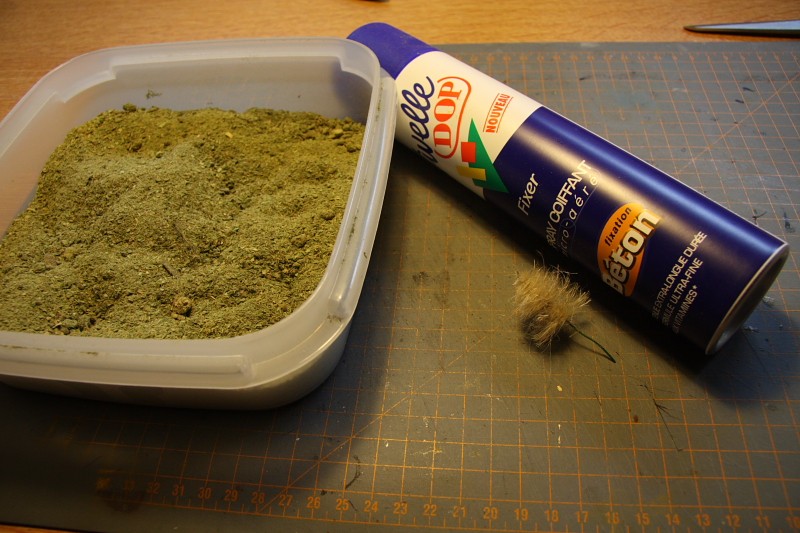 Next step is hair spray. You need some strong hair spray but will not use a lot of it per tree as it won't be enough to seal the flocking stuff in place. For flocking I use wooddust I tainted in various greens.
(fr) Après la coupe, le spray. Mieux vaut avoir un spray fixant ultra fort, mais cela n'empèchera pas de devoir tout fixer au vernis par la suite. Pour le flocage, sciure de bois teintée.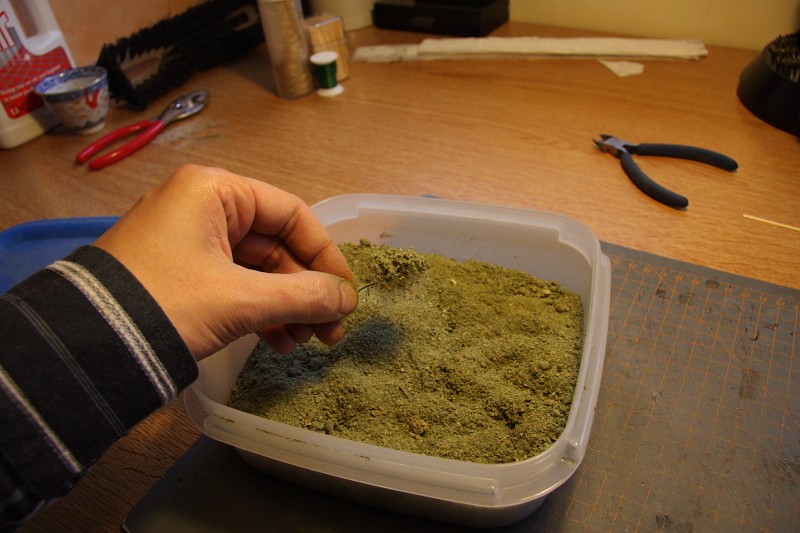 Spray one side, then flock...
(fr) Un petit coup de spray d'un coté, et flocage...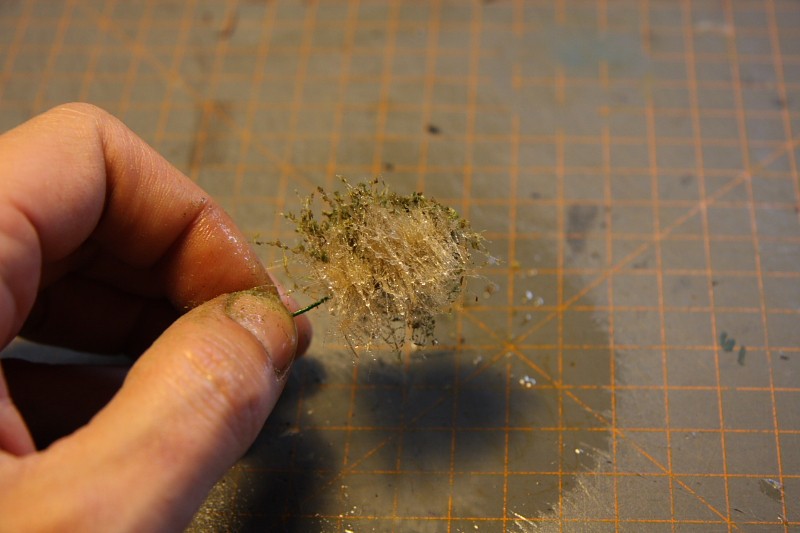 Spray the other side. Don't hesitate if you have some drops of spray : they will not impact the apparence with bad clusters.
(fr) Un petit coup de spray de l'autre... Ne pas hésiter si des goutelettes de spary se forment : Elles ne créeront pas de "pâtés" de flocage. (spray = très volatile)
Repeat on top, bottom, wherever you need to flock in fact, and here it is...
Let it dry and fix the flocking with some sprayed varnish. I used a 50/50 mix of Klir and water. Klir is normally glossy, but wood dust and oakum drink it a bit so it remains flat but really seal the thing in about 30 minutes.
(fr) répéter au dessus, dessous, en fait... partout ou vous pensez devoir rajouter du feuillage.
Laissez sécher, puis fixez le flocage avec un vernis pulvérisé. De mon côté, disposant d'un aérographe, j'utilise du Klir dilué à 50% avec de l'eau. Le klir est normalement brillant, mais ici la sciure (bois) et la filasse (chanvre) boivent le klir, cela permet de consolider le flocage tout en restant mat. Temps moyen de séchage constaté autour de 30 minutes.
So, as I said previously, I did not invent anything there, and probably the original video says it better than I did. Reason of this post was to share my experience of this very nice hint, and the material I used as I could not manage to have the original material used in the video.
Last point : Building the tree of that post took me about 5 minutes, including pictures. Before that I spent one hour making tests (some were not that good), but I think that one can produce tens of those in various sizes in the same time. Not only this is costless, but also very fast. So, real thanks and credits to those who shared the original trick.
(fr) Comme dit précédemment, je n'ai rien inventé et il est probable que la vidéo originale explique les choses mieux que je ne l'ai fait. La raison de ce post est donc de partager mon test de ces techniques, mais aussi les fournitures que l'on peut utiliser en low-cost pour un résultat tout aussi bluffant.
Dernier point: L'arbre de ce post m'a pris autour de 5 minutes, incluant les prises de vues. Avant ça, j'ai passé une heure à faire des tests (plus ou moins réussis, mais peu de déchet), mais je pense qu'une fois la technique acquise on peut faire des dizaines d'arbres dans cette petite heure.
Ce n'est pas seulement économique, mais aussi très rapide... alors... un grand merci à ceux qui ont partagés cette technique sur le net.
Tomorrow I hope having some time to work on marshes and roads.I Will let you know...
(fr) Demain, j'essaierai de travailler un peu sur des marais et des routes. Je vous tiendrais au courant...
Cheers,
Bruno.