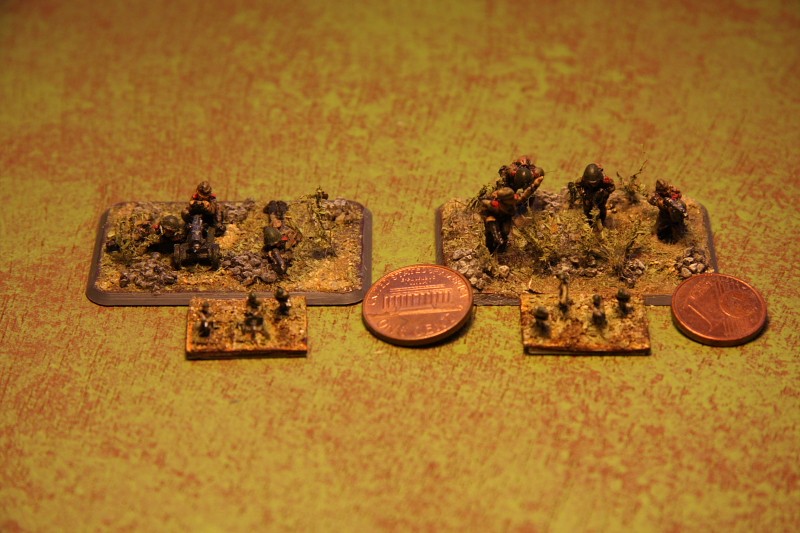 Hi there,
Last firday, just before leaving Paris I found my GHQ order in my mailbox.
Obviously I bring it with me, and here are some results. To those not knowing 6mm range and/or GHQ (such as me few weeks ago) the header picture shows you two of my 15mm FoW stands (Russian HMG and SMG platoon) and just in front of them, two 6mm GHQ's stands of the same... One cent coins give another idea of the kind of scale we are talking about...
(fr) Vendredi dernier, j'ai eu l'agréable surprise de trouver ma commande GHQ dans ma boite aux lettres. Naturellement, elle m'a accompagnée et voici les premiers résultats. A ceux qui ne connaissent pas le 6mm et/ou GHQ (tout comme moi il y a peu) la photo d'en-tête montre la comparaison de deux bases FoW 15mm et de leur corollaire en 6mm (HMG et SMG russes)... Les pièces d'un cent donnent une idée de la taille....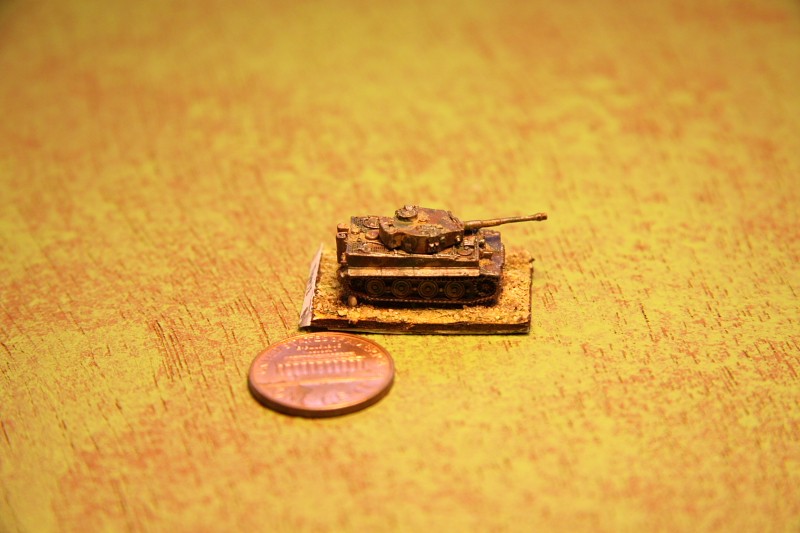 Here was my very first experiment.
This picture shows a Tiger 1E (GHQ ref. G68) so to give an idea of the precision and detail level vs. the scale. I made the mistake to paint them with "real" colors, that render it far too dark at scale. As well, I tried to chip and dirt him but at the scale result is awfull. I still need to practice...
(fr) Mes premiers pas...
Cette image montre un Tigre 1E (GHQ Ref. G68) tout en donnant une idée du niveau de détail hallucinant pour l'échelle. Premiers essais impliquant premières erreurs, j'ai utilisés des couleurs correctes en 15mm mais le rendu est bien trop sombre pour l'échelle. Itou, j'ai essayé un peu de patine, mais le résultat ne me convient pas. ( tampon de mousse de blister à proscrire en 6mm)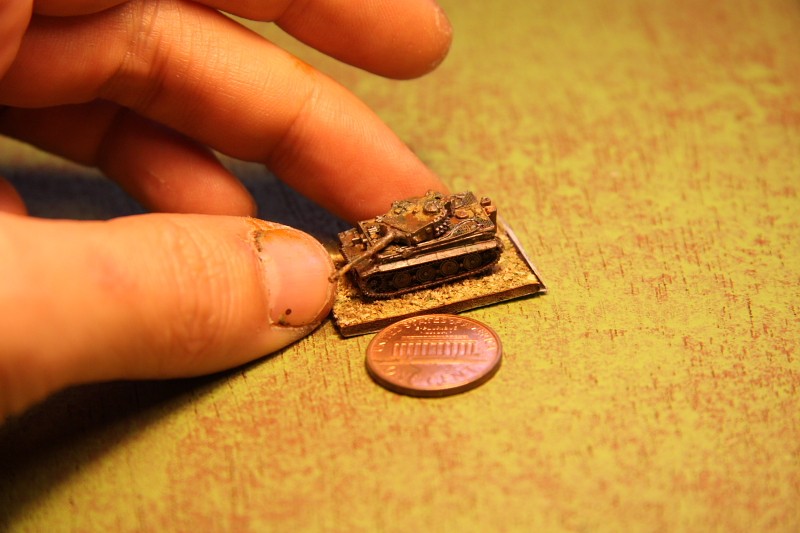 Here, just another view of one of those Tigers, still for scale and detail ratio that simply is crazy...
(fr) Ici, juste une autre vue de l'un de ces petits ;-) tigres, toujours pour voir le niveau de détail à l'échelle, tout simplement hallucinant...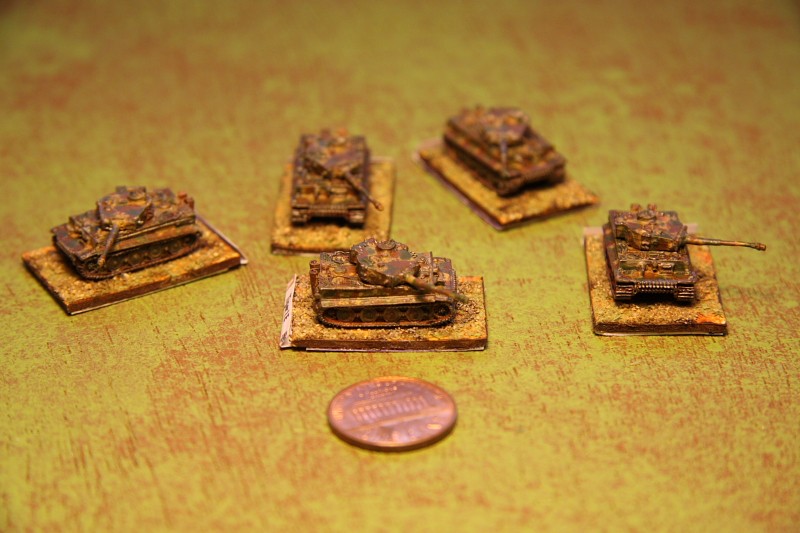 Sooner I said the tiger was GHQ ref. G86, I should have precised that this reference include not one Tiger, but five of them. That makes the Tiger to less than 2$.
(fr) Plus haut j'ai indiqué que ce Tigre était la référence G86 de GHQ. En fait j'aurais du préciser que cette référence inclut cinq d'entre eux. Les voici en meute. A moins de 10$ le pack, ça vous fait le Tigre à moins de ... 1,40 euro.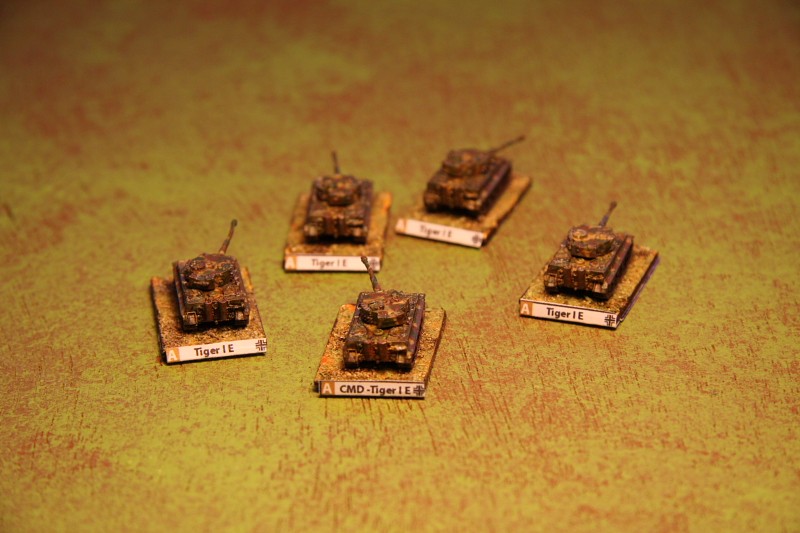 OK, so it's true those are small on the table, so I used my same technic to label them on the table with removable and reusable labels. Here are the Tigers : 4 units plus one command, from the 'A light-brown' platoon. A letter and a color are far enough to identify units (and command chains) without any confusion.
At 15mm scale, I have room to name platoon and dependencies but just having platoon ID, unit type and nationality is enough to immediately identify who is who on the table from a distance. (Label is 2mm height for 1 to 2 cm width)
(fr) OK, c'est vrai que c'est "un peu" petit sur la table, donc j'ai utilisé la même technique que celle que j'utilise pour FoW en 15mm pour les identifier de façon amovible et réutilisable. Ici, on voit les Tigres : 4 unités plus leur commandement du platoon "A- couleur: terre de sienne". Ces deux codes sont largement suffisants pour identifier immédiatement une unité sur la table, et surtout les chaines de commandement et d'observation. En 15mm, les labels sont suffisamment grands pour indiquer le nom de l'unité, mais ici, mis à part un code (lettre+couleur), le type et la nationalité, je n'ai plus vraiement de place. (2mm de haut pour 1 à 2 cms de large...)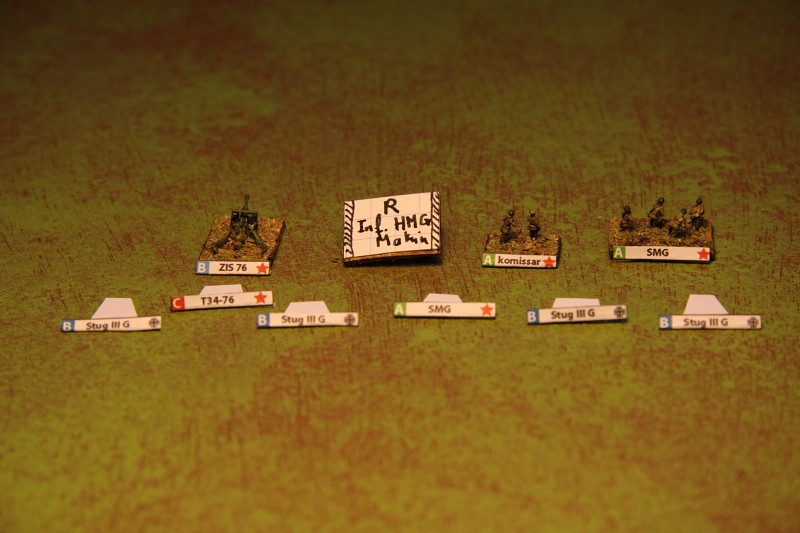 Here is the obvious way it works. You can see units with some labels in place (Russians ZIS 76mm gun, komissar and SMG team), and also the back of another unit base (Russian HMG team).
At front of picture are sample labels. Create them with your favorite tool (OpenOffice Draw for me), print them on heavy paper and fold them. Put some clear varnish to rugedize them. Now, looking at the Maksim HMG stand's bottom, notice the two atched areas on left and right. Those are the areas on which I put glue. Then I put a piece of heavy paper, and then I can insert labels between the base and the heavy paper so to make them visible either from front or rear. Then you can swap rules and troops organizations by simply swapping labels. This way, you can use your Tigers as T34 and... well... OK... let's say that a Rifle platoon can reasonably be used as a Rifle/SMG or saper platoon :-);
(fr) Voici la façon simplissime dont ça fonctionne. On peut voir quelques unités avec un label en place (ZIS 76mm, Commisaire politique et SMG team Russes) et le dessous d'un socle (HMG). En première ligne, se trouvent des labels. Les créer sur son outil de dessin favori (OpenOffice Draw pour moi), les imprimer sur du papier fort, les plier et les découper. Maintenant jetez un oeil sur la base de Maksim HMG retournée. J'ai gribouillé deux zones hachurées. Le truc, c'est de mettre un peu de colle sur ces deux zones uniquement et de placer une sous base de la taille du socle en rodhoid. Une fois la colle sèche on peut insérer nos labels entre socle et sous socle, à l'avant comme à l'arrière. On est donc plus tributaire des règles jouées, de l'organisation, et on peut même raisonablement utiliser un Tigre comme un T34... euh... enfin ... je voulais dire, un platoon de Rifles pour un platoon de Rifles/SMG ou de sapeurs du génie... ;-)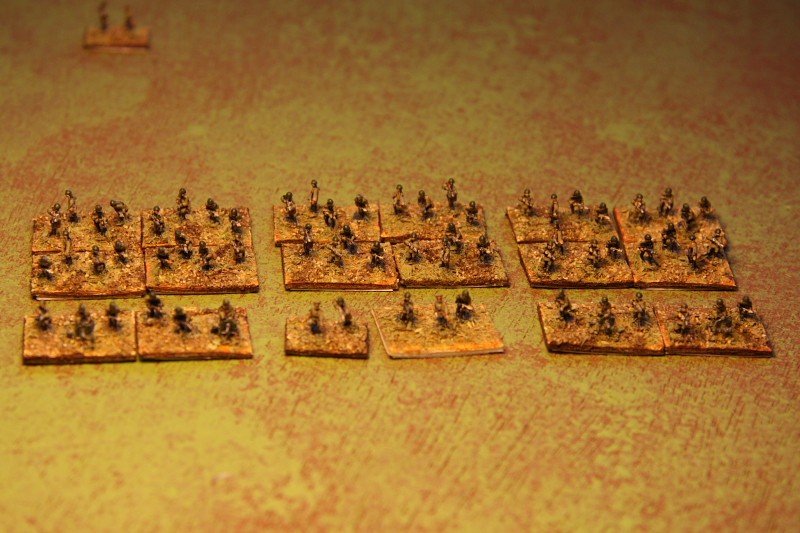 Here is a view of the Russian infantry. This is part of GHQ ref. R48. With that reference, I had enough minis to build a Udarny Strelkovy company at full strength (12 teams, 1 Komissar, 1 command) with 4 Maksim HMG support guns (HMGs were from another pack but the 2 infantry guys per HMG team come from there). Not used from that R48 pack are several officers, two troopers, and a second Komissar team you can see at a distance in the top left corner. Should I add this pack is less than 10$ ? !?
(fr) Voici un aperçu de mon infanterie Russe. C'est une partie du pack R48 de GHQ. Avec cette référence j'ai pu construire une comapgnie Udarny Strelkovy à plein effectif de 12 teams, 1 commissaire politique et un commandement) avec en plus 4 teams de Maksim HMG en support. (Les HMGs viennent d'un autre pack, mais les 2 fantassins sur les bases proviennent de ce pack R48). En plus, du R48, il m'en reste.... en l'occurence, plusieurs officiers, 2 fantassins et la plaquette de commissaire que vous pouvez voir en arrière plan, en hait à gauche. Dois-je ajouter que ce pack coûte moins de 7 Euros ?!?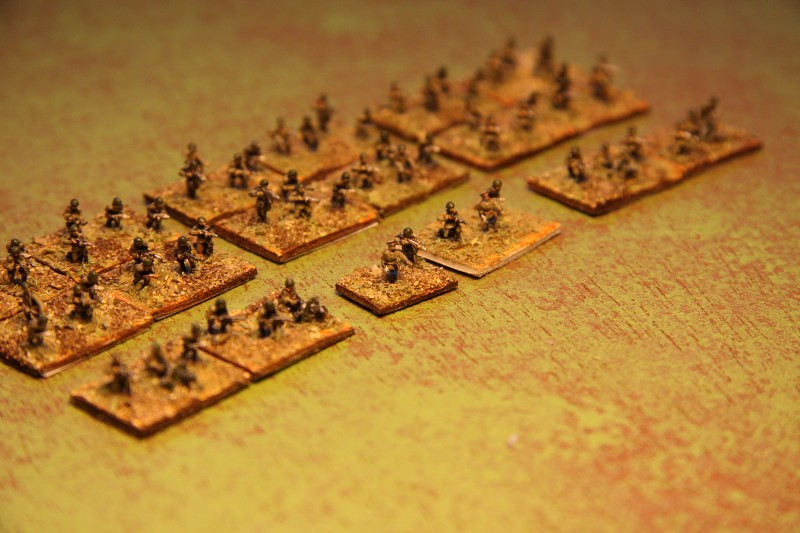 Here is another shot, focusing on the Komissar (should have gone Av before shooting...). For those immagining painting those minis could be a nightmare, let me tell you that it's exactly the reverse. Painting this full company took me no more than 3 hours and was a real pleasure...
(fr) Ici une autre photo avec un focus sur le commissaire politique. J'aurai du passer en Av avant de la prendre... Pour ceux qui s'immaginent que peindre à cet échelle est un cauchemard, permettez moi de dire que c'est exactement l'inverse. Cette compagnie a été peinte en 3 heures à tout casser et c'était un vrai plaisir...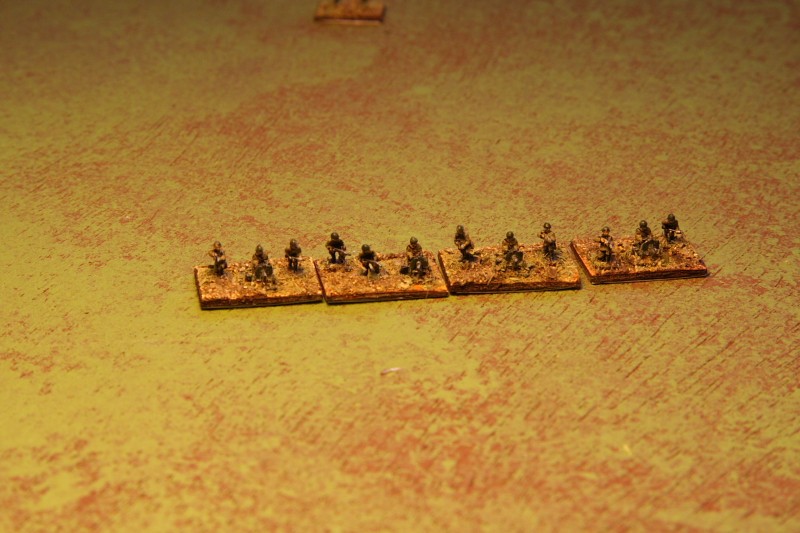 Here are the Maksim HMG teams I built. They are partly done with GHQ's R48 (infantry) and R49 (Heavy weapons) packs. Per base, I put one Maksim (from R49) and 2 soldiers (from R48). In my pack R49 I find no less than 20 MG, 16 HMG, 12 Mortars, 6 Flame throwers,8 observers and 4 officers.
My only concern with this pack is that there are no loaders to either MGs or HMGs, reason why I replaced the missing loaders with infantry men. Also, artillery or infantry come without observers. This pack is the only one providing observers.
(fr) Ici les 4 teams de support HMG Maksim russes. Ils sont faits avec les références R48 et R49. Par base, j'ai utilisé une Maksim (de R49) et deux soldats (de R48). Dans le pack Heavy weapons R49, je n'avais pas moins de 20 MG, 16 HMG, 12 Mortiers, 6 lance flammes, 8 observateurs et 4 officiers.
Mon seul reproche sur ce pack est l'absence d'équipier (servant) pour les MG et HMG. Seuls les mortiers présentent bien deux servants par base. Aussi, il faut savoir que ce pack est le seul à fournir des observateurs.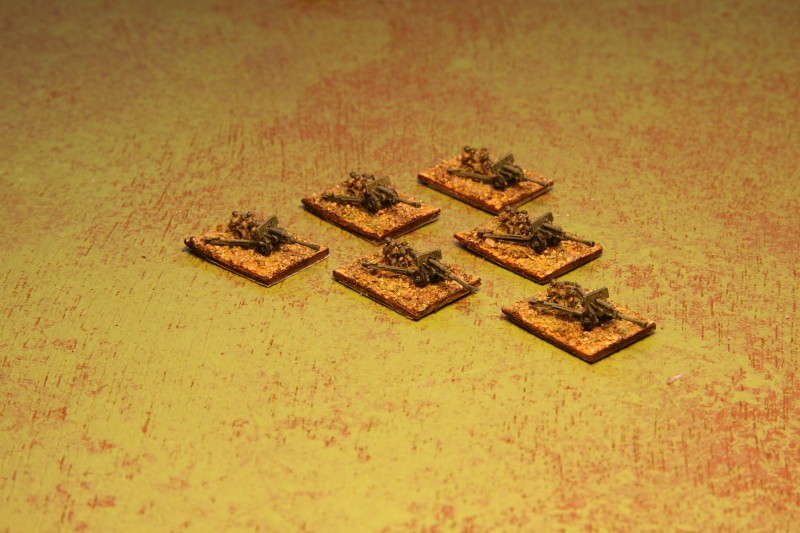 Here is some Russian artillerie. This is simple 76mm "crash-boom(?)" R13 pack from GHQ. I will use them as ZIS 76mm, in other things. They come complete, with teams, 6 a pack, but without observers. I did not wanted to put cents on any picture, but have a look... the team is a bit "tiny" but the guns are really great.
(fr) Un peu d'artillerie Russe. Il sagit de la réf. R13 de GHQ. Je les utiliserai comme des ZIS 76 par défaut, AT ou autre fonction des labels. Ils sont fournis complets : 6 pièces avec leurs servants toujours pour moins de 10$ (mais sans observateurs)... Je n'ai pas voulu mettre des "cents" sur toutes les photos, mais c'est pas l'envie qui manque : Les teams sont un peu "groupés" mais les canons sont superbes.
So, after the Tigers, let's talk about "Tiger's meat", sometimes called "poisoned meat" (depends the side you play ;-)) but anyway, let me introduce you the T34-76 1943, GHQ's ref. R18. Another time, pictures talk by themselves. I did not paint details (i.e. tools) because my brushes are too big (painted with a nb 2 and a nb 1), so despite my painting not giving justce to the model, appreciate their quality.
I have decided to glue all vehicules on bases (for labelling and safety of storage) but actually only one of those is glued in place. In addition, I noticed I forgot painting sides of one base... mea culpa... mea granda culpa... mea maxima culpa... ;-)
(fr) Après les "Tigres", parlons de la "Patée pour chat", voire la "mort aux rats" (dépendant du coté que l'on joue ;-)), à savoir du T34-76mm 1943, réf. R18 chez GHQ. La photo parle par elle même, et si ma peinture ne rend pas justice à la finesse du modèle (même pas peint les outils, mes pinceaux sont trop gros (un 2 et un 1 en taille)....), je vous laisse apprécier la finesse.
J'ai décidé de baser tous mes véhicules. D'une part pour identification (labels, cf. plus haut) mais aussi pour faciliter le rangement (A quelques grammes le char, bonjour la valse du tiroir...). Sur la photo un seul T34 est basé. Les autres ne sont que posés sur leur future base (en plus, il y en a une dont les cotés ne sont pas peints : mea culpa, mea granda culpa, mea maxima culpa...)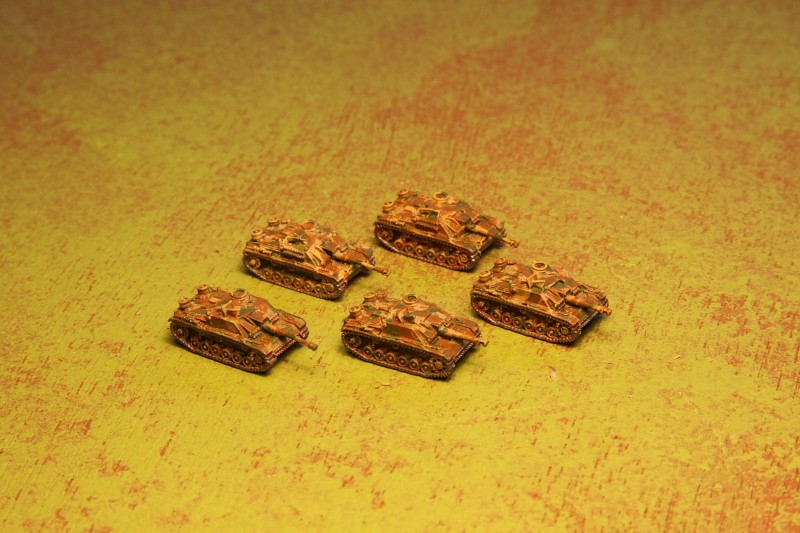 Here are some StuG, ref. G84 from GHQ.
As ever, 5 in a 10$ pack, that I tried to paint in a more clearest tone than the Tigers. I m somewhat happy with them, even if my cammo pattern could have been better...
(fr) Maintenant quelques StuG, ref. G84 chez GHQ. Comme toujours 5 dans un pack à 10$. J'ai éclairci ma peinture et suis plutôt content du résultat, bien que mon camouflage reste un peu grossier. (en 6mm je débute...)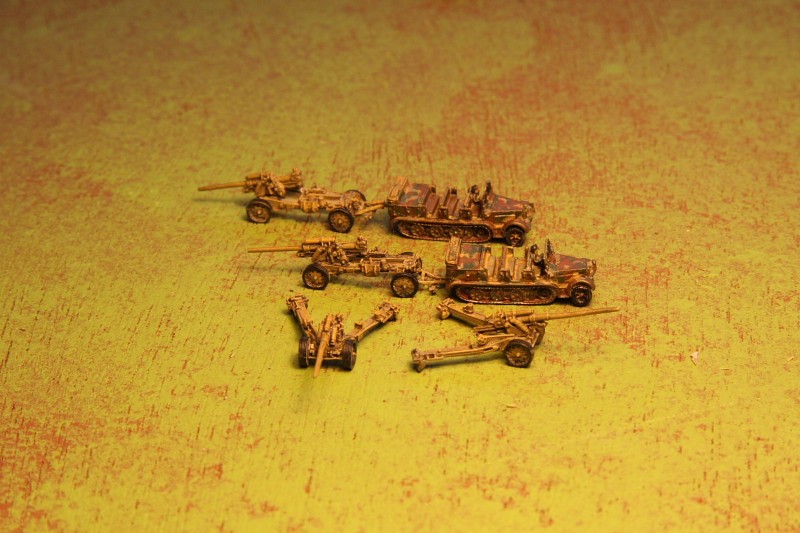 German support artilery, meaning 105mm field guns from GHQ ref. G135. This pack offer you two deployed guns, and two limbered guns, full with limbered gun + train + carrier.
This pack do not include teams. Those are available as a separate reference (currently under coated).
(fr) Artillerie allemande, à savoir des 105 mm, ref. G135 chez GHQ. Ce pack offre 2 pièces d'artillerie déployée, et deux autres en attelage (avec les véhicules tracteurs).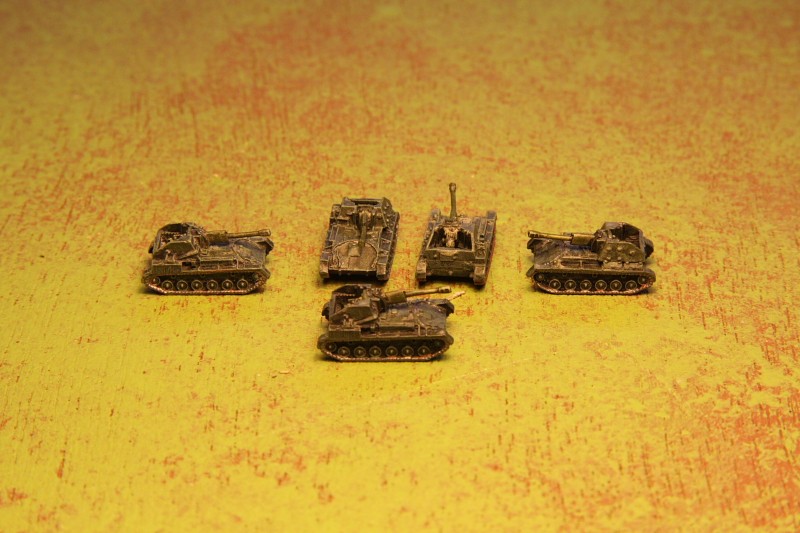 Here are 5 SU-76 from GHQ pack R21. They are not based as well, but I let you appreciate their quality despite basic painting.
(fr) Voici 5 SU-76 contenu du pack GHQ R21. Leurs bases ne sont pas encore faites, mais appréciez le niveau des minis malgrès la peinture de base...
Still remaining are : German and Russian artillery crews (Germans are on the workbench), German heavy infantry weapons and German infantry. I will post more as I progress.
That order was a test and the result is far more than positive ...
GHQ are very hard to find in France, in fact (AFAIK) they are not distributed any more. I ordered those ones directly from GHQ in the US and was very happy from their packaging and delays (about 3 weeks). Direct international order to serious companies such as GHQ is not really an issue.
(fr) De ma commande originale il me reste les servants d'artillerie Russe et Allemands (les Allemands sont en cours), les armes lourdes d'infanterie allemande (MG,HMG,mortiers,...), ainsi que l'infanterie allemande. Je publierai les résultats au cours de l'avancement.
Cette première commande était un test, et le résultat est plus que positif.
GHQ est très difficile à trouver en France, et à priori ils ne sont plus distribués. J'ai commandé directement chez GHQ aux US et ai été très satisfait du packaging et des délais (de l'ordre de 3 semaines). Avec des sociétés sérieuses comme GHQ, il ne faut pas hésiter à commander directement à l'international.
Cheers,
Bruno.