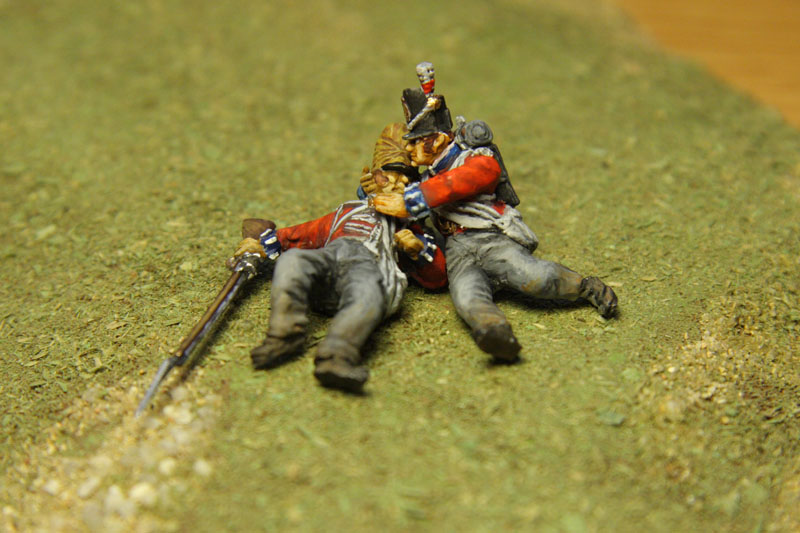 Hello,
Here are the first painted results (base is just a wargamming hill, not the dio yet). As said it was hard for me to evaluate the potential final result from the "greeny thing", so the reason why I decided to put the two grounded soldiers in paint. I am happy with the result, but I could see I also made lot of mistakes. However, the more it goes on, the more I enjoy that little project.
As a reminder, those are 28mm Victrix, not their new 54mm range.
(fr) Voici les premiers résultats peints (présentés sur une colline de wargame, la base définitive reste à faire). Comme dit précédemment, il m'était très difficile d'évaluer ce que donnera la partie "verdâtre" une fois peinte. Donc, j'ai décidé de peindre les deux soldats au sol, pour voir... Je suis content du résultat, ne serait-ce parce qu'il m'a permis de voir les erreurs que j'ai commis. Dans tous les cas, j'adore ce petit projet... que du bonheur.
Pour rappel, il s'agit ici d'une modification de figurines 28mm, pas des nouvelles 54mm que propose Victrix.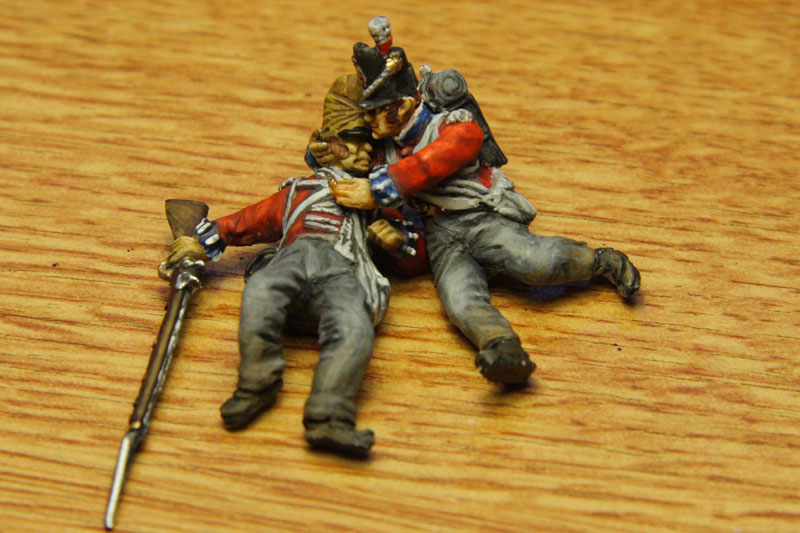 Here a first view from top. I'm really happy about how they look. It is exactly what I was searching for. Perhaps first timer luck (despite water gourd I could not put)...
(fr) Une vue de dessus. Je suis super content de ce que ça rend. Exactement ce que je voulais. Peut être la chance du débutant (malgrés la gourde d'eau que je n'ai pas pu mettre)...
This view shows the hand of the helper. I think it's either too low (could not put water gourd) or too high (should touch his comrade body to be better).
(fr) Sur cette vue on voit bien la main du soldat assistant son camarade. Je pense qu'elle est soit trop basse (pas pu mettre la gourde), soit trop haute (idéalement, elle devrait toucher la poitrine de son camarade).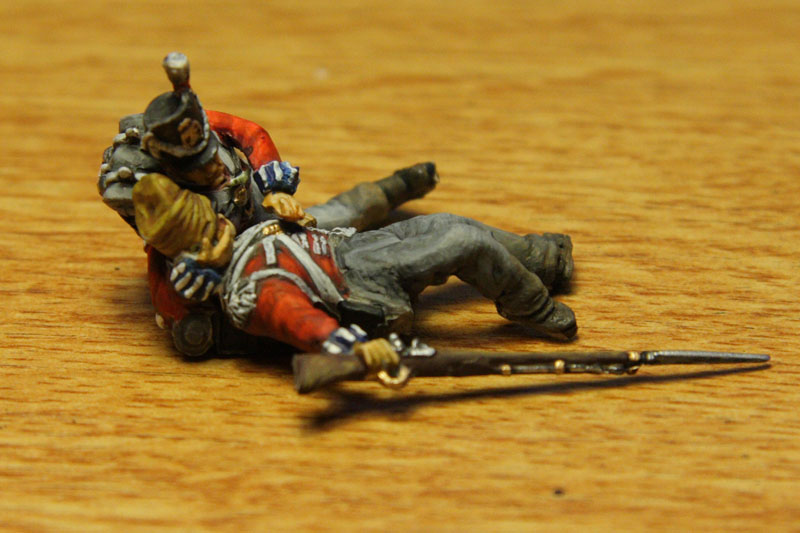 Another view on which this is even more obvious. On the other hand ;-), I am happy with the hand sustaining the head and the arm I completely made. There are far too much "stripes(?)" but I'm on my first time building full members. I'll do best next time. (also, hand was a Victrix part)
(fr) Autre vue sur laquelle ce problème de main "lévitante" est encore plus évident. D'un autre côté, je suis très content de la main soutenant la tête. C'est la première fois que je réalise des membres en entier (sauf la main : pièce Victrix) et même s'il y a bien trop de boutonnières, je trouve ça pas trop mal.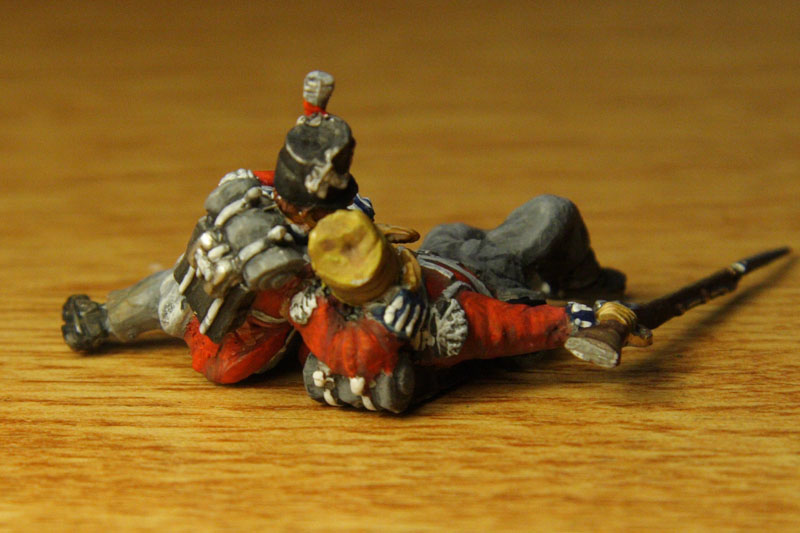 Now from the rear. The arm junction is good, but it does not have natural proportions : the bend of the arm should have been more on the left, and the shoulder a bit higher.
(fr) Vue de l'arrière. La jonction du bras est bonne, mais ses proportions sont mauvaises : le coude aurait du être plus sur la gauche, et l'épaule un poil plus haute.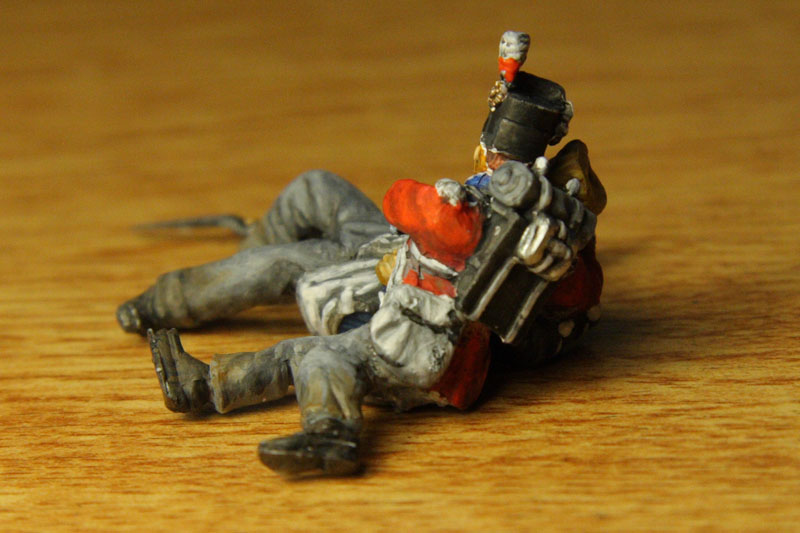 Last, the helper flank.
(fr) Enfin, une vue sur le flanc du soldat portant assistance
.
As a conclusion, I realized I made a lot of mistake. My "sculpting" was far too heavy and I used too "hard" wire for members support that did not let me make hard angles I should have do (i.e. knees). That had an impact on proportions to which I did not paid enough attention. Green Stuff smoothing still is not easy for me. I use water, but will have to improve here, as GS can't be sanded. On the pros side, most important, I think I learned a lot, and also, the way this project is evolving despite my mistakes is a real motivation for me. I know experts will have a smile, but I really like the way it start to take shape...
(fr) En conclusion, cette mise en peinture m'a permis de voir les erreurs commises. Ma "sculpture" est bien trop lourde, et j'ai utilisé du fil de fer bien trop rigide pour obtenir les angles fermés qui m'auraient permis de mieux respecter les proportions anatomiques. Lisser le GS n'est vraiment pas trivial pour moi. Comme il ne se ponce pas, j'ai intérêt à m'améliorer sèrieusement sur ce coup là. Côté positif, le plus important, j'ai appris pas mal de choses, et la façon de ce projet évolue malgrès les bourdes est une réelle motivation. Bien sur, les pros en auront un sourire, mais j'aime vraiement la façon dont tout ça commence à prendre forme...
Cheers,
(fr) A+
Bruno.