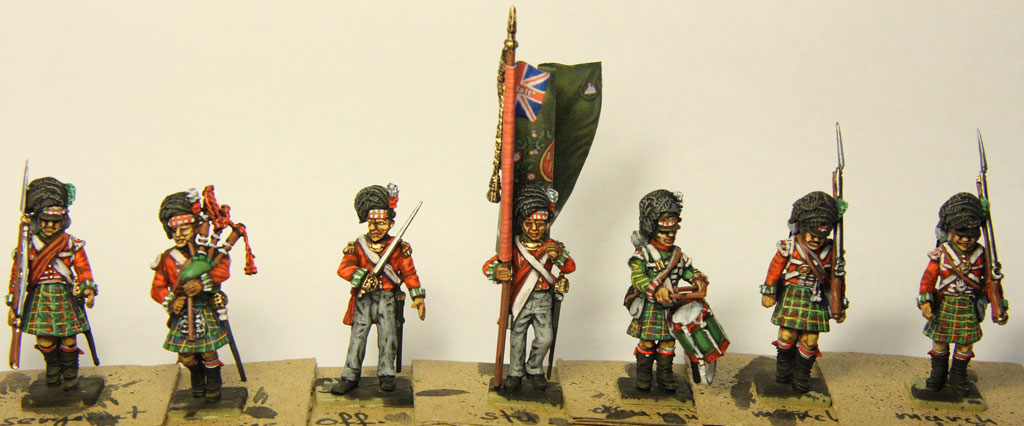 In a previous post, I proposed a
review of Victrix's 28mm plastic Highlanders
. During that review, I built a test set of 15 miniatures covering quite all possible positions. Here are the first part of them just painted.
Bear in mind that those have been painted for wargaming, not collection, so the paint is far being "art painting". Those 7 figures were painted in about 6 hours, so not really fast painting, but the 8 remaining will be, so they should be published as well by end of this week.
As ever, click on pictures to see large view (600x900). The painting does not gives justice to those wonderfull minis, but the large views should let you apreciate Victrix's job on those little gems.
(fr) Dans un post précédent, j'ai proposé une revue des Highlanders de Victrix au 28mm. Durant cette revue, j'ai construit 15 figurines couvrant la quasi-totalité des positions disponibles dans cette boite. Voici les 7 premières peintes.
Gardez à l'esprit qu'elles l'ont été en vue de faire du wargame, pas de la collection. La peinture est donc loin d'être exceptionnelle, visant surtout la vitesse. (J'en ai ~300 en stock). Ces 7 premières figurines ont été peintes en ~6 heures, donc pas vraiement du "fast paint", mais les prochaines subiront ce (triste ?) sort, et devraient donc être avoir leur post d'ici ce Week-End.
Comme toujours, cliquez les images pour les voir en large (600x900). La peinture ne leur rend pas justice, mais ces gros plan vous permettront de voir la superbe gravure dont Victrix nous a gratifiés avec cette boite.
Standard bearer /

Porte étendard

: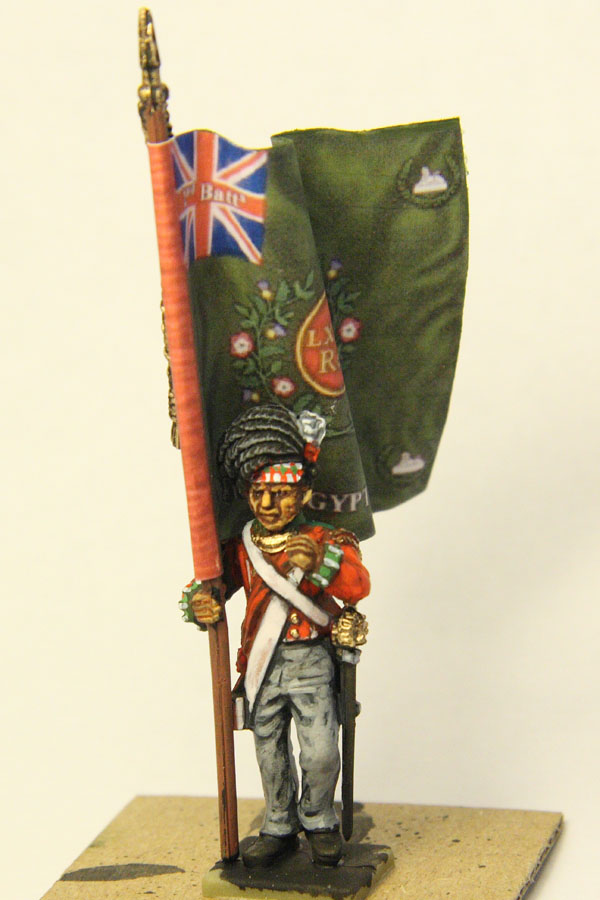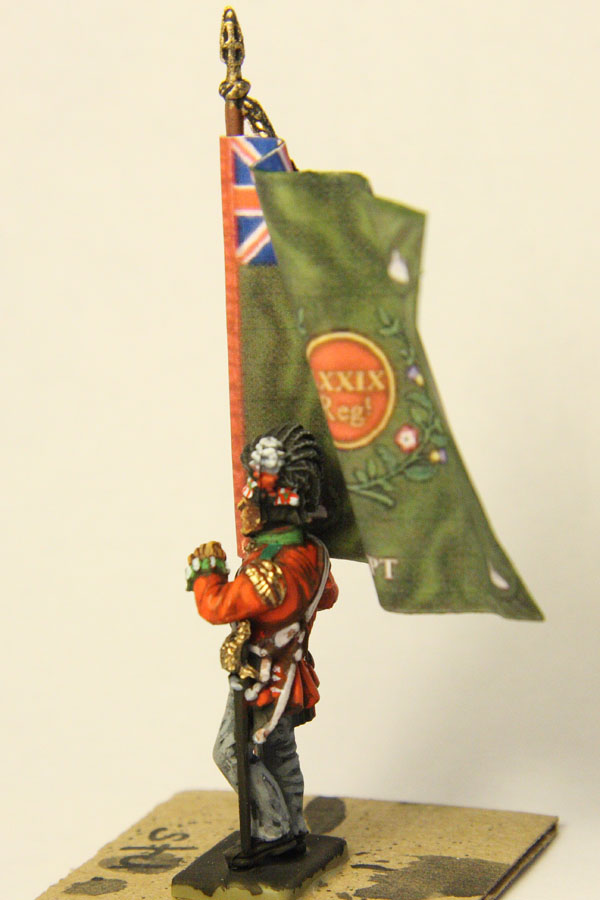 I confirm the Victrix flag is too big for the pole. As I did not wanted to cut it, I scaned it, resize it to a height of 3.25 cms and print it. Te result is not as beautifull as Victrix's original, but my paper being less thick, it really eased the assembly.
(fr) Je confirme que les drapeaux Victrix sont trop hauts : impossible de les assembler sur l'étendard. Plutôt que de charcuter les originaux, j'ai scanné, réduit et imprimé à la taille de 3,25 cm. Le réultat est un peu moins chouette que les originaux, mais mon papier (moins épais) a rendu l'assemblage très facile.
Officer /

Officier

: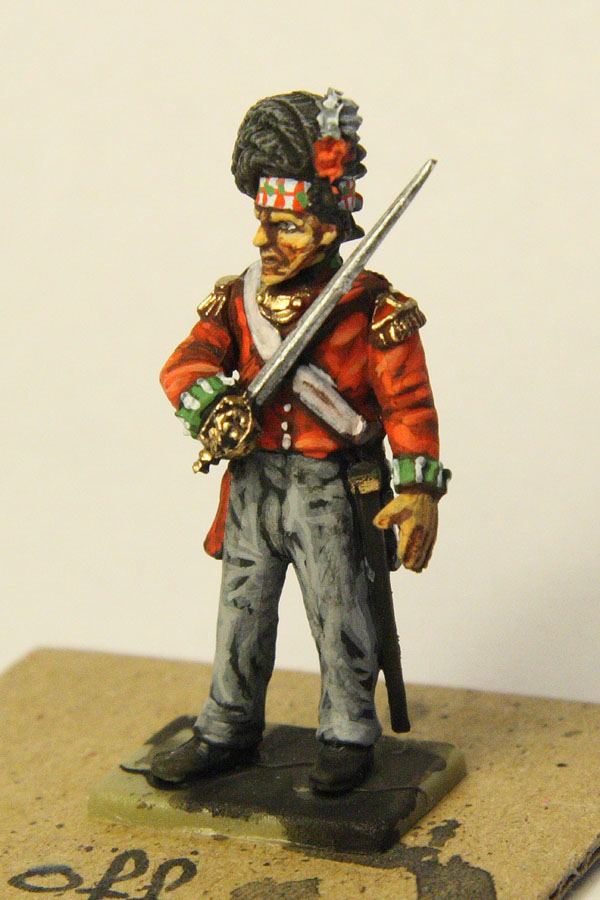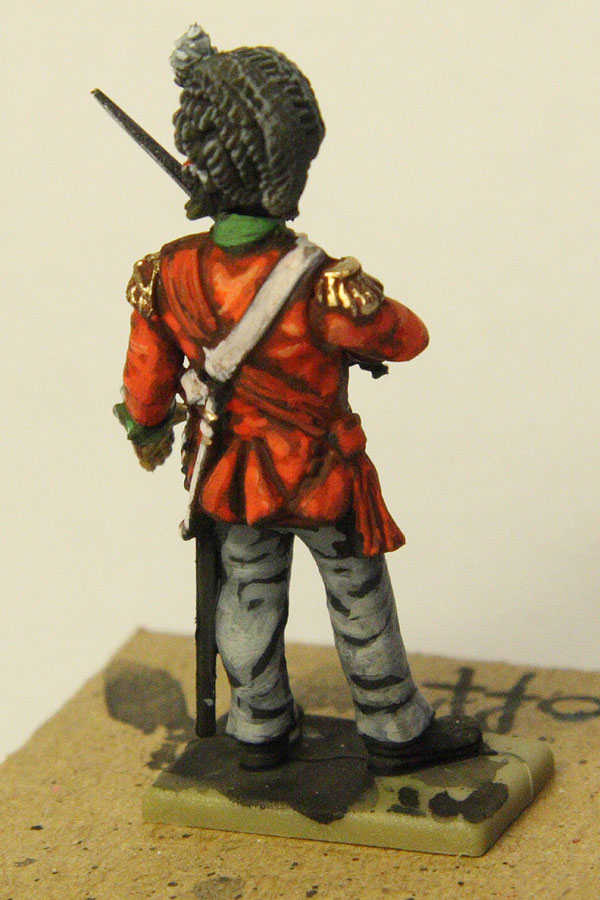 Bagpipe piper /

Cornemusier

: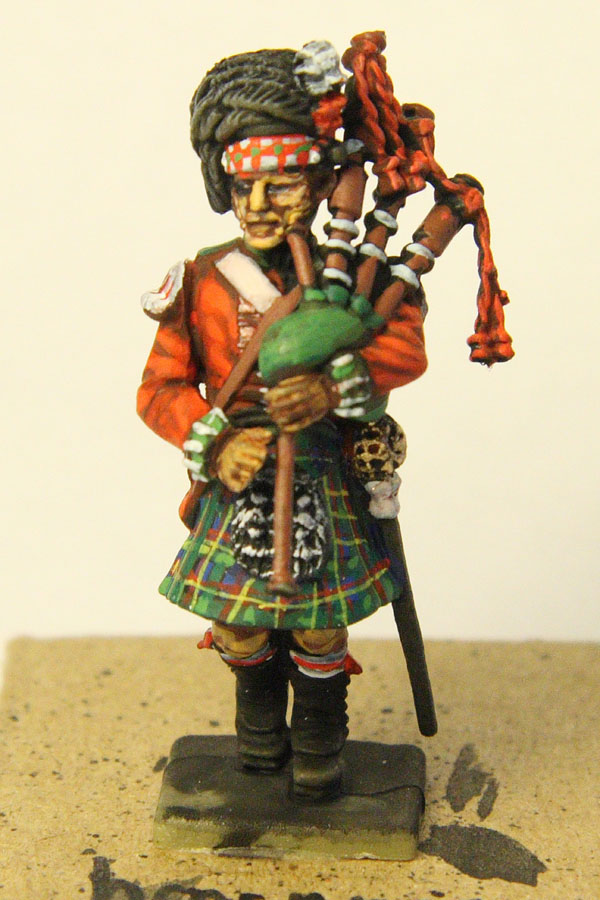 Here is the first kilt I ever did. I had several test, and finally decided not to try recreate the exact cameron's tartan : result at the scale was awfull. I simplify the "design" still using the key colors (Blue, Green, red and yellow). Result is good, but the global color does not match cameron's tartan. To have a coherent unit I will keep that one, but will try to do better with next unit.
(fr) Voici le premier kilt que j'ai réalisé. Après plusieurs tests, j'ai finalement laissé tomber le schéma exact du tartan des Cameron highlander : A l'échelle le résultat était horrible. J'ai donc simplifié le schéma tout en untilisant les couleurs originales (bleu, vert, rouge et jaune). Le résultat est sympa, mais la couleur globale ne correspond pas à celle du tartan des Camerons. Pour cette unité, je garderais donc ce schéma (cohérence) mais essaierai de faire mieux la prochaine fois.
Drummer /

Tambour

: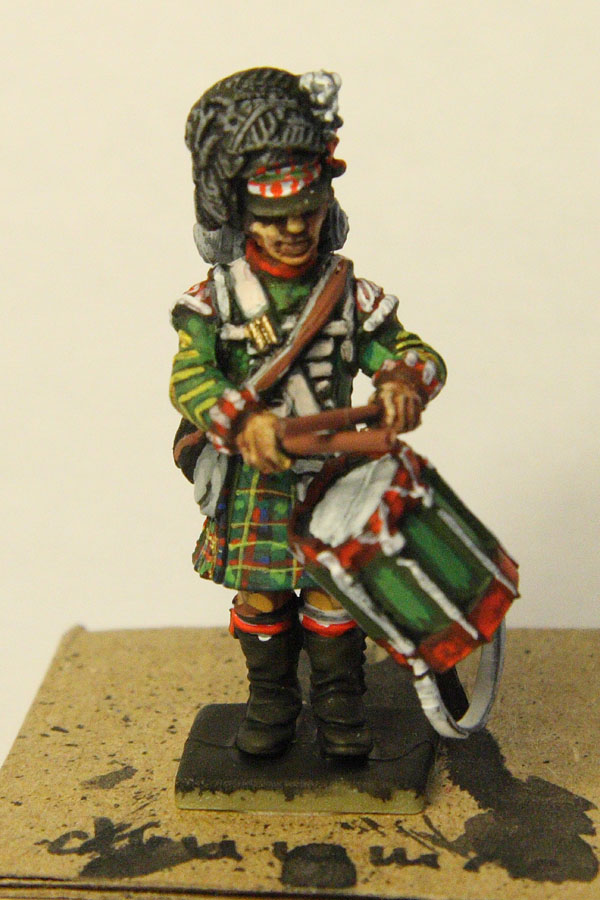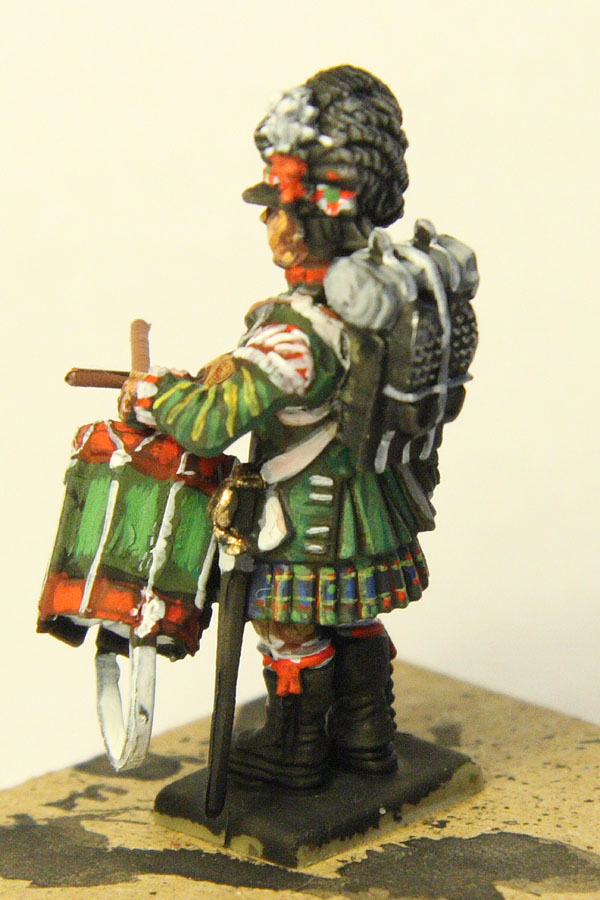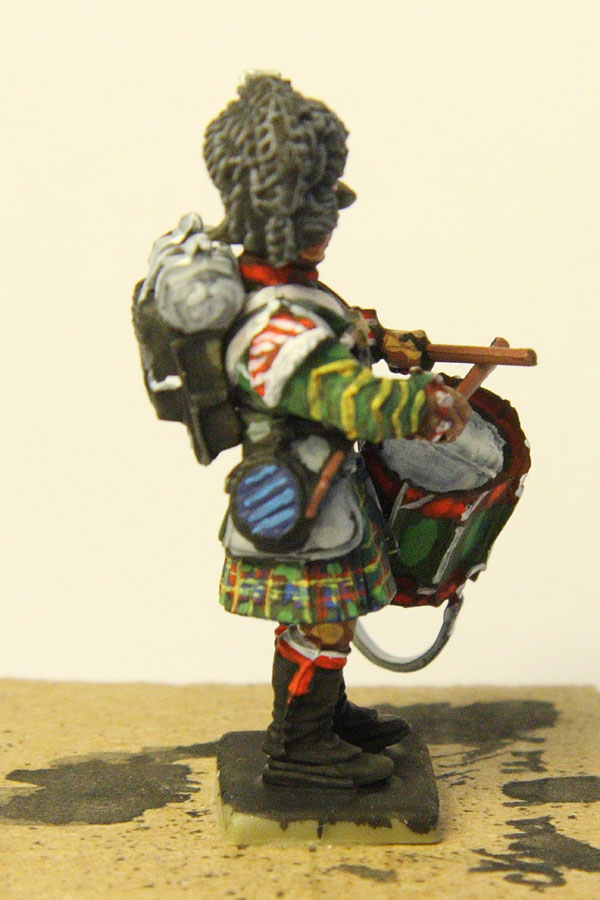 As you can see I made a mistake when assembling the drum : One half is top/bottom and the other bottom/top. Parts are designed to avoid this, but more care have to be done to this assembly than I did.
(fr) Comme on peut le voir, je me suis trompé dans l'assemblage du tambour. La moitié avant est montée à l'envers (haut/bas). Les pièces disposent pourtant de détrompeurs, mais il est clair qu'il faudra leur accorder plus d'attention que je ne l'ai fait sur ce coup là.
Sergeant /

Sergent

: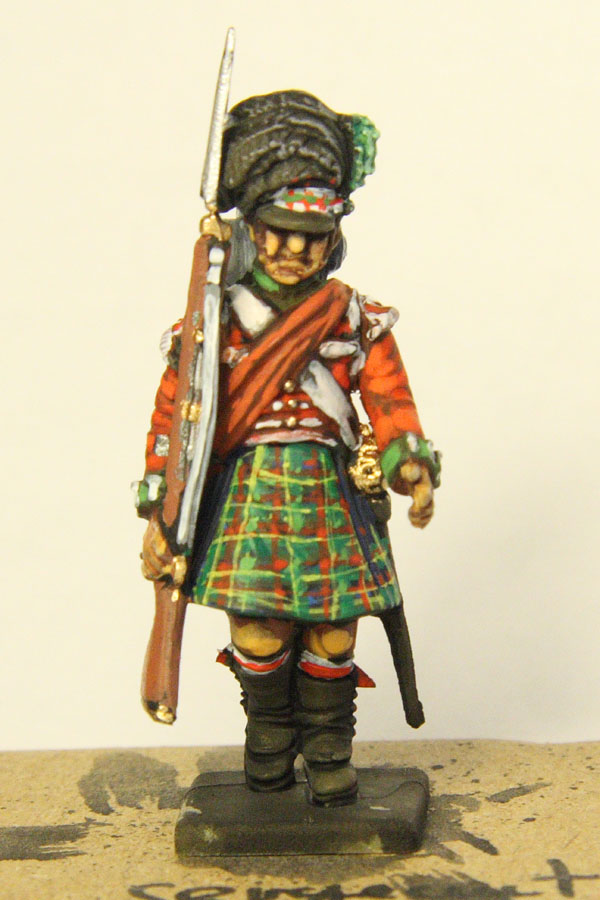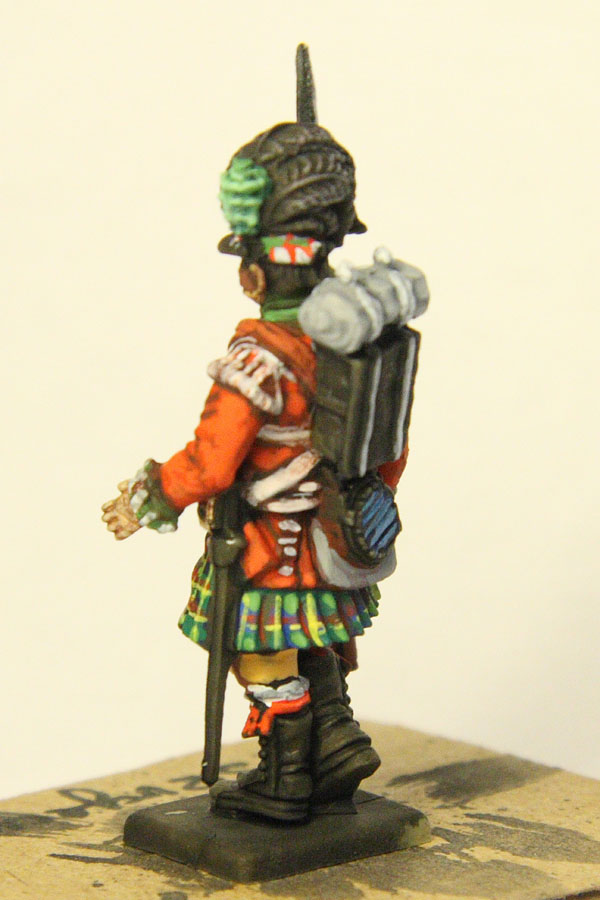 Marching private /

Soldat marchant (I/II)

: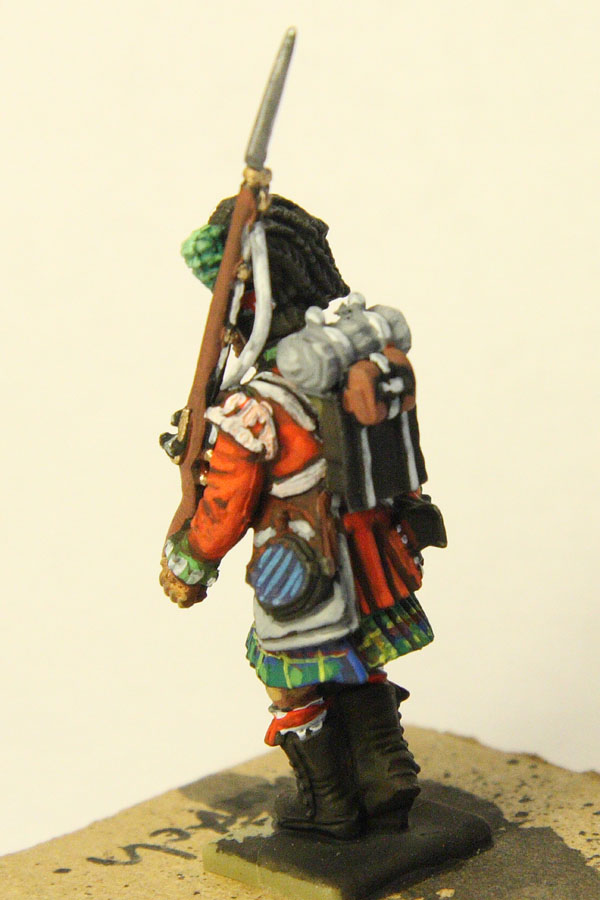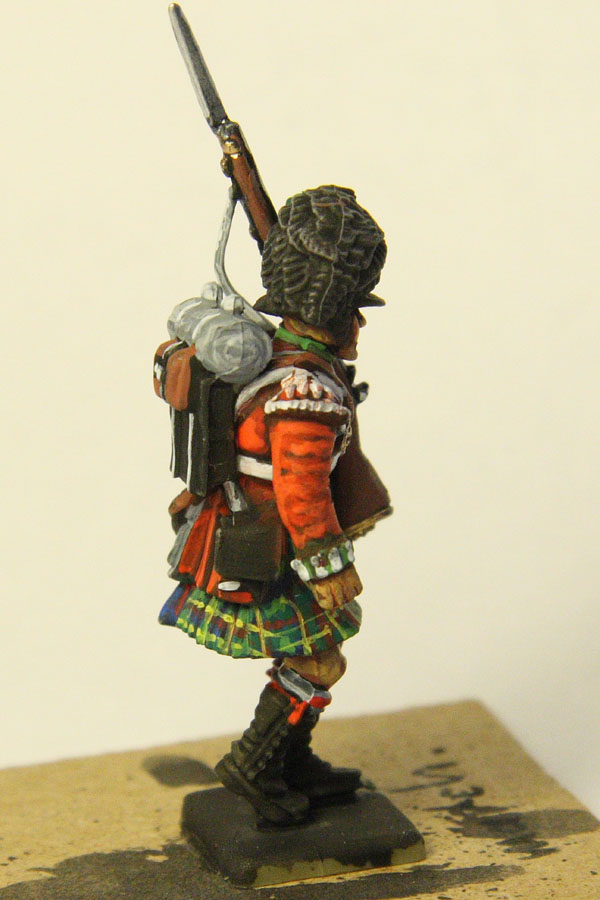 Marching private /

Soldat marchant (II/II)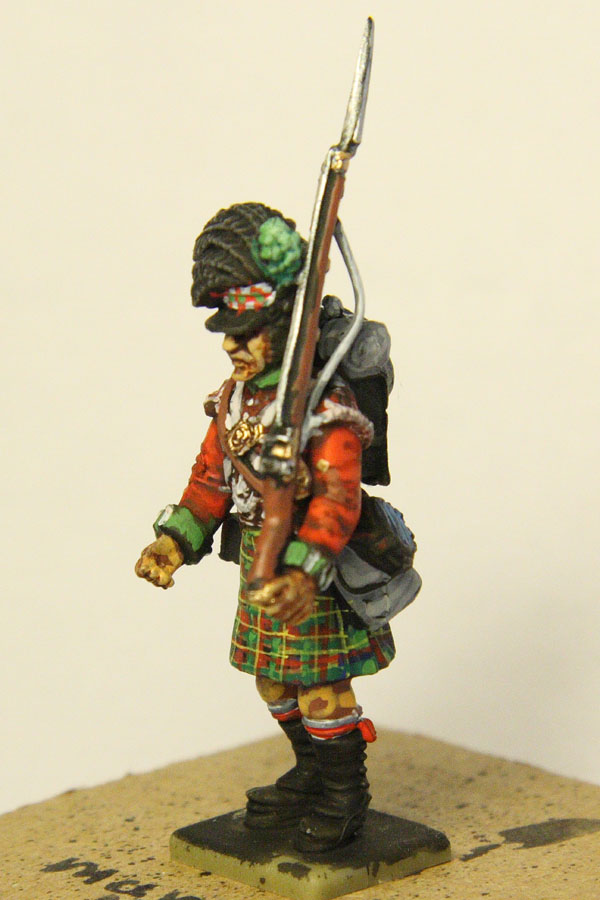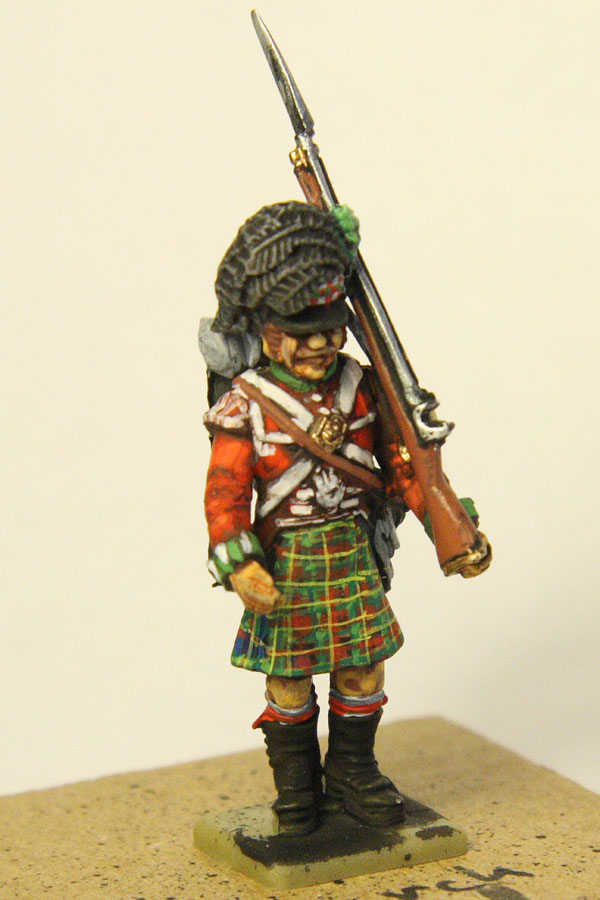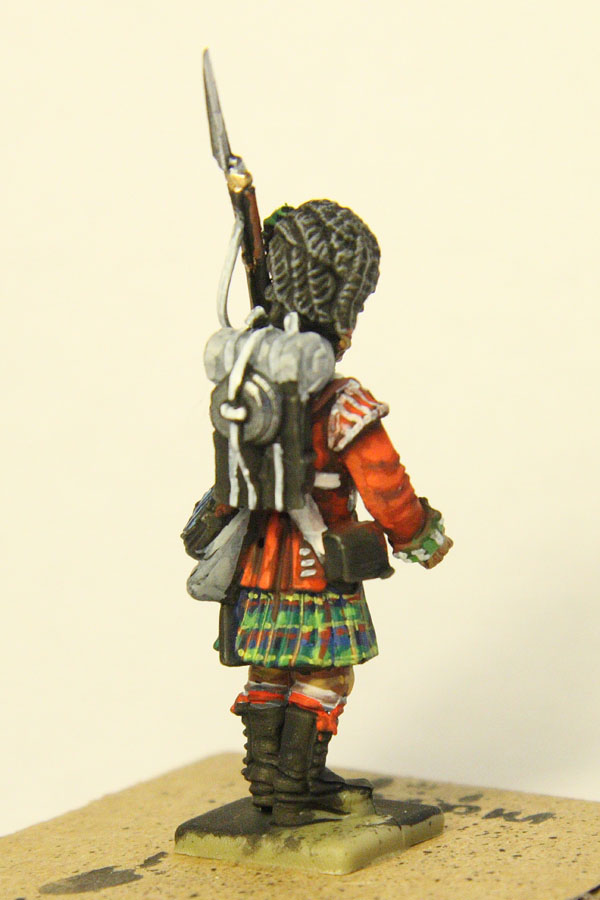 On TMP forum I was recently told that when marching, British soldiers kept the right arm on their side, and were not balancing it. I was not aware of that, so thanks again. It seems that with the body position of marching soldier II such assembly is not possible : The amunition box is too much forward.
(fr) Sur le forum TMP, on m'a récemment appris que les soldats Anglais marchaient avec le bras droit collé au corps et ne le balançaient pas. Il semble qu'avec le corps choisi pour l'assemblage du soldat marchant II ce ne soit pas possible : la besace à cartouches gène, étant positionnée très en avant.
That's all folks...
OK, so it's all for today. Only 53 more to do ... so, back to painting ;-)...
Hope you enjoyed,
C'est tout pour aujourd'hui. Plus que 53 à faire ... j'y retourne ;-)
A+,
Bruno.