Welcome to this review /

Bienvenue
This time we will have a look at Victrix Highlanders - Flank Companies. We will see which assembly options you precisely have and some related hints. From this box you can build 60 28mm plastic miniatures. All parts are spreaded on 8 sprues of 2 different type. So 15 miniatures any 2 sprues.
(fr) Nous allons jeter un oeil sur les Highlanders - Compagnies de flanc (élite). Nous verrons les différentes positions d'assemblage de cette boite, ainsi que quelques trucs histoire de se simplifier la vie. Dans cette boite se trouvent 60 figurines 28mm en plastique à assembler. Elles sont réparties sur 8 grappes de 2 types. 15 miniatures peuvent donc être assemblées avec 2 grappes.

The sprues /
Les grappes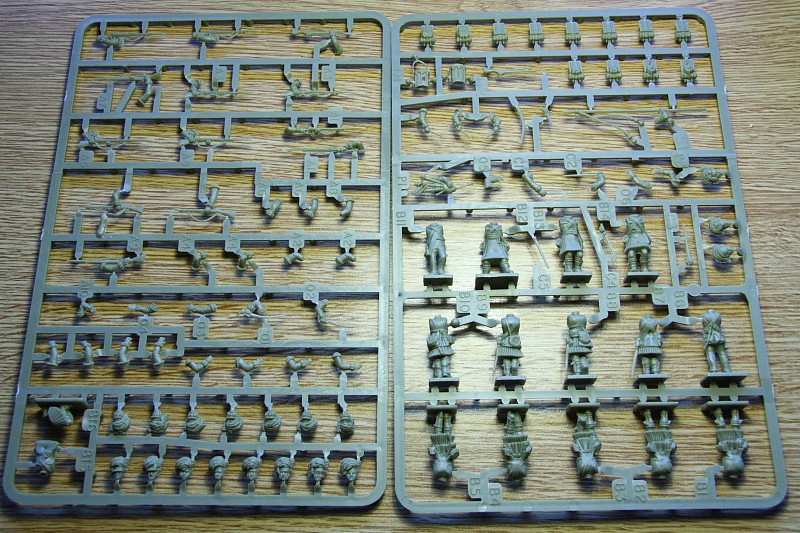 The sprues are really clean. On mine I had no flash, only very few recesses were catched on some kilts, but nothing critical. Not all parts are labeled. The issue when planning the assembly is not to know what you will obtain precisely. The "documentation" simply states things like "B1 = Advancing" in the bodies list, or " A1 + A2 = firing arms" in the Arm pair list. No drawing, no diagram. Also some parts are forgiven, such as reloading or shouldered guns arms, left arms references for std bearer, sergeant and some others. This can be a bit annoying, we will see that thereafter. A miniature is built with one body, two arms, a head and a backpack, so 5 parts, in most cases.
Engraving is very nice, bodies are dynamic, casting is high quality.
In the box are included 4 flags (2regimental + 2 kings colours) for 79th and 92nd regiments. Those are really nice but will be a bit too big for the pole, so will have to be shortened. As ever, Victrix's simple rule is included.
(fr) Les grappes sont propres. Je n'ai pas noté de bavure, seulement quelques légères retassures sur quelques kilts, mais sans gravité. Toutes les pièces ne sont pas référencées sur les grappes. Le problème est que l'on ne sait pas exactement à quoi ressemblera une figurine quand elle sera montée. La documentation indique seulement que les bras A1+A2 permettront d'avoir un tireur, ou encore que le corps B1 est un soldat en train d'avancer. Il n'y a ni schéma, ni diagramme. C'est parfois ennuyeux comme on le verra plus loin.
Une figurine est composée de 5 pièces dans la majorité des cas : un corps, deux bras, un sac à dos et une tête.

La gravure est fine, les positions sont dynamiques, et le moulage est nickel.

Dans la boite on trouve aussi 4 drapeaux ( 2 King colours + 2 drapeaux régimentaires) permettant de réaliser deux régiments, le 79eme et le 92eme. Ils sont superbes, mais un peu grand pour la hampe et il sera nécessaire de les retailler un peu.
The assembly review /

Revue d'assemblage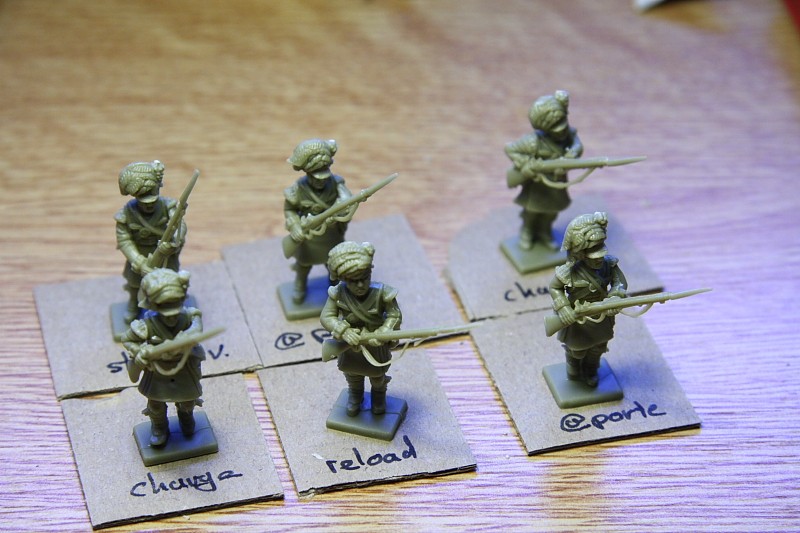 My objective is to build a visually coherent unit (march/attack as far as possible). In my first build (British inf. 1815) I had made the mistake to do the assembly without this in mind, and as a result, the unit I built was not really coherent. Also, I will base them per 4, on a 1.5cm frontage per mini. So I had to avoid things like horizontal muskets, or "highly gesting" minis. On the picture you see what I mean with unit visual coherency. Thereafter we will review each position provided in the box, even if few were not used in my test build. This test build covers 15 miniatures on 2 sprues (1 of each type) and illustrate possible combinations. Best order to build the minis is to start with the ones for which all parts are labeled first. Then, when asking yourself "which left arm should I use for my standard bearer ???" you will take lower risk using an arm that would be better on another mini...
In next section, by "positions" we will mean arms assembly. You have several bodies types either standing or marching/attacking that you can mix with any arm positions. Except for command, there are no specific body for specific arms. Heads as well are all usable on any miniature of the the box (AFAIK - no indication on "documentation") . When we will talk about "set", we will mean "2 sprues, one of each type". That means one set is OK to check all the different possibilities you have on 15 minis, knowing that you have 4 sets per box (so 60 minis).
(fr) Mon objectif est de construire une unité visuellement cohérente. Lors de ma première expérience Victrix (Anglais 1815) j'ai commis l'erreur de na pas en tenir compte, et me suis retrouvé avec une unité pas vraiement cohérente. Comptant les baser par 4 avec un front de 1,5cm par fig. il faut aussi que j'évite les fusils à l'horizontale ou les assemblages de figs. trop "gesticulantes". Sur la photo ci-dessus, vous pouvez voir ce que je veux dire en terme de cohérene visuelle. A suivre on va passer en revue chaque position et son montage, même si quelques unes n'ont pas été retenues dans ma quête de cohérence. Cette construction test couvre 15 figurines, donc 2 des 8 grappes (1 de chaque type). L'ordre d'assemblage idéal est de commencer par les figurines pour lesquelles toutes les pièces sont référencée. De cette manière, quand vous en arriverez à construire le porte drapeau, vous n'aurez pas à vous demander quel bras gauche lui affecter qui serait en fait beaucoup mieux sur une autre (par exemple).

Dans la section suivante, "position" signifiera assemblage de bras. Il y a de nombreuses variantes de corps, tant "en attente" qu'en "marche/attaque" mais tous peuvent être combinés librement avec les positions de bras. Seul le commandement fait exception, avec des corps et souvent des positions de bras spécifiques. Pour autant que je sache, toutes les têtes sont interchangeables sur toutes les positions, commandement compris (aucune indication de la doc). Quand on parlera de "set", comprenez un ensemble de deux grappes, une de chaque type. Cela signifie qu'un set donnera toutes les possibilités d'assemblage sur 15 figurines, sachant que l'on a 4 sets (60 figs.) par boite.
Marching position -

Position de marche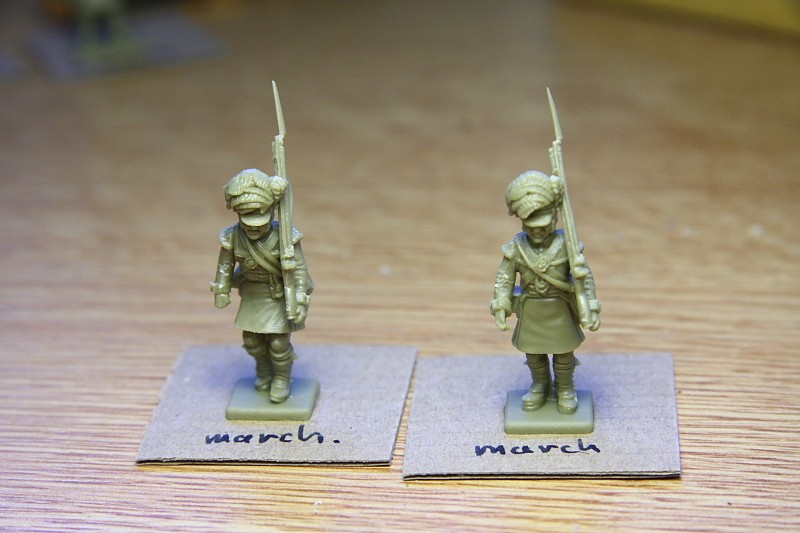 Here is a "marching" position. It is built with unlabeled arms, so is better to build somewhat at the end. You can built 2 of them per set set. So it means you can build 8 of those with one box. I plan using them in second line for 4 of my bases, or to create 2 bases of them.
(fr) Voici une position de marche. Les bras ne sont pas référencés sur les grappes. A construire parmis les derniers donc. On peut en construire 2 par set, donc 8 par boite. Je compte les utiliser comme seconde ligne pour quatre de mes bases, ou créer 2 bases d'eux.
Sergeant /
Sergent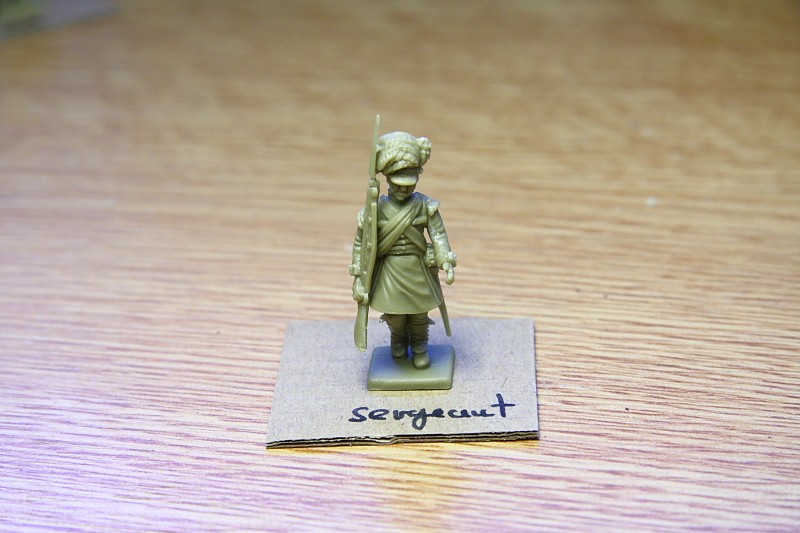 Here's the sergeant you can build with each set, so 4 sergeants in a box. Body is B8, right shouldered musket is A9 and is the only one per set, so no confusion. Left arm is not referenced, so be carefull, especially beacause of it's sword, even if the worst will come with the standard bearer.
(fr)Voici le sergent que vous pourrez construire avec chaque set, donc 4 par boite. Le corps est B8, le fusil à l'épaule droite est A9 et le seul par set, donc pas de confusion possible. Le bras gauche n'est pas référencé, donc attention, surtout à cause de la garde de l'épée qui peut géner. A ce niveau le pire reste encore le porte étendard...
Officer /
Officier
There are numerous options given for the officer : Sabre or Claymore, each in various positions in other things. No possible confusion here as all parts are labeled. Most difficult is to make it's mind ;-). This one was built with Claymore arm C2. Take care to add the correct scabbard for the sword you gave him (Claymore or Sabre). The scabbard have to be glued very first on the left leg of the officer. 1 officer per set, means 4 in a box...
(fr)Vous avez de nombreuses possiblités pour l'officier : Entre autre Sabre ou Claymore, chacuns dans differentes positions. Aucune confusion possible ici, toutes les pièces étant référencées. Le plus dur sera de faire son choix ;-). Celui ci a été assemblé avec le bras "Claymore" C2. Prenez garde à choisir le bon fourreau et à l'assembler sur la jambe gauche en tout premier. 1 officier par set, donc 4 par boite...
Piper /
Cornemusier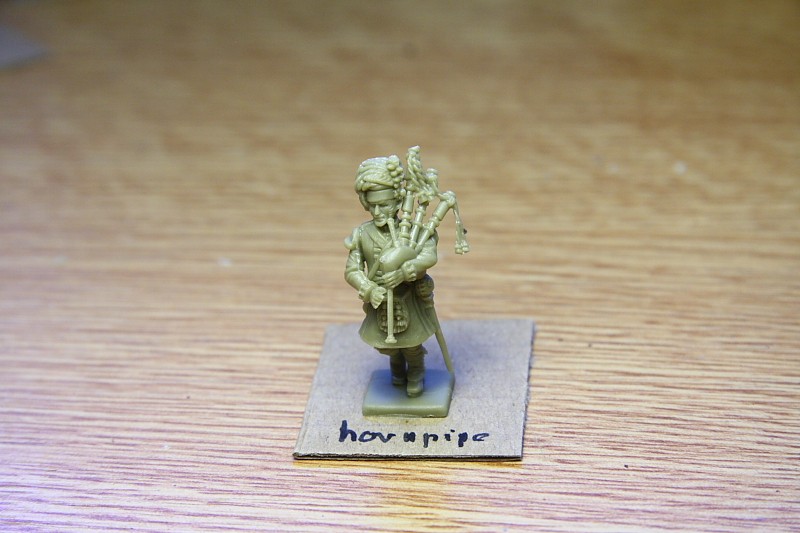 The piper is a really nice piece. All parts are labeled, and there are no options other than choosing a head. Take care to the bagpipe and especially it's "cord". It is very fragile (I broke mine, and had to repair it). There is 1 hornpiper per set, so 4 per box.
(fr) Le cornemusier est superbe. Toutes les pièces sont référencées et il n'y a pas d'options si ce n'est de choisir sa tête. Mefiez vous de la cornemuse et surtout de son cordon exterieur. La pièce est très fragile (J'ai cassé la mienne et ai du la réparer). Il y a 1 cornemusier par set, donc 4 par boite.
Drummer /
Tambour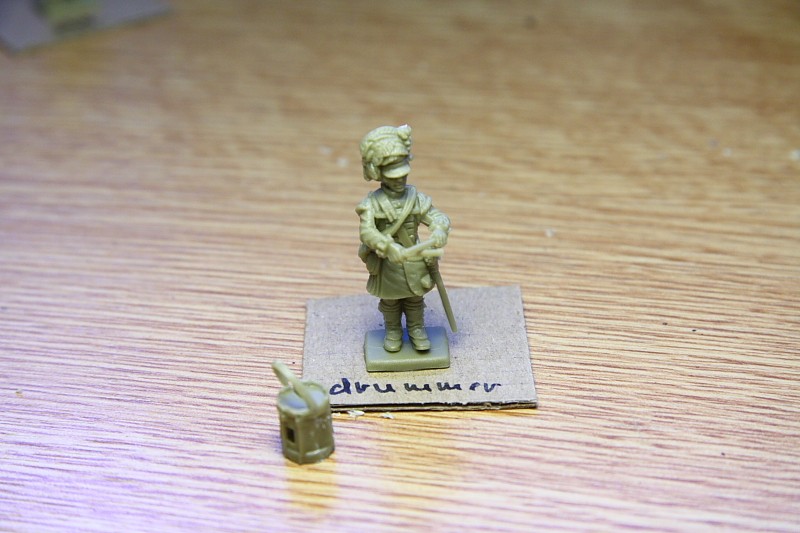 The drummer is no surprise as well. All parts are labeled. You have 2 choices for the right arm. I will paint the drum apart, reason why it is not in place. 1 drummer per set, so 4 per box.
(fr) Pas de surprise pour le tambour. Toutes les pièces sont référencées et on a 2 possibilités pour le bras droit. Je compte peindre le tambour à part, raison pour laquelle il n'est pas assemblé.
Standard bearer /
Porte étendard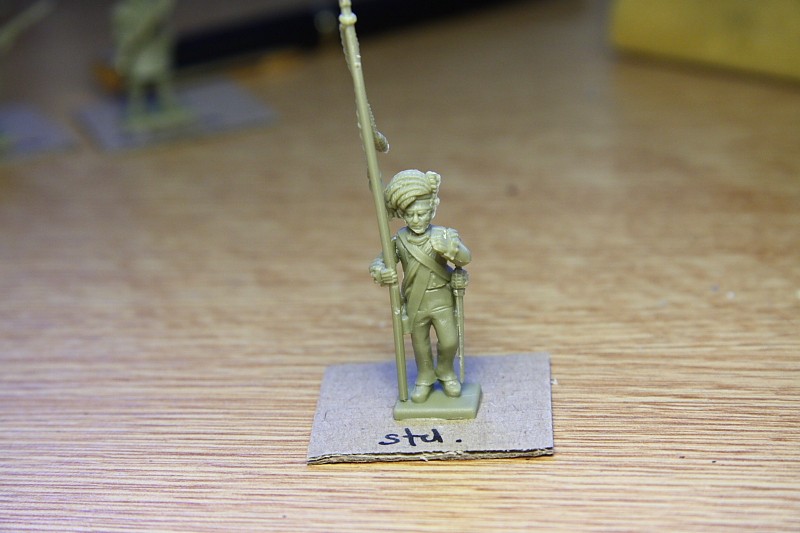 The standard bearer has a trap : His left arm vs. his sword. There are no referenced left arm for him, so I first tried a straight arm, but with the sword in place (you'll have to glue it) impossible to put the arm in place except quite horizontally that was awfull. I removed that and grab the only unreferenced arm that was folded (happy I had not used it yet...). The sword can not be fixed lower than I do without looking bad, so take care on this one... 1 standard bearer per set, 4 in a box.
(fr) Le porte étendard recèle un piège : Son bras gauche vs. son épée. Il n'y a aucun bras référencé pour lui, donc j'ai commencé par prendre un bras "droit". Le truc c'est qu'avec l'épée en place (à coller) la garde empèche de le positionner autrement qu'à l'horizontal... horrible. J'ai donc remplacé ce bras par le seul bras gauche plié du set (encore heureux que je ne l'ai pas déja utilisé...). L'épée ne peut raisonnablement être fixée plus bas que je ne l'ai fait, alors à bon entendeur... Il y a 1 porte drapeau par set, d'où 4 par boite.
Charge position /
Postion de charge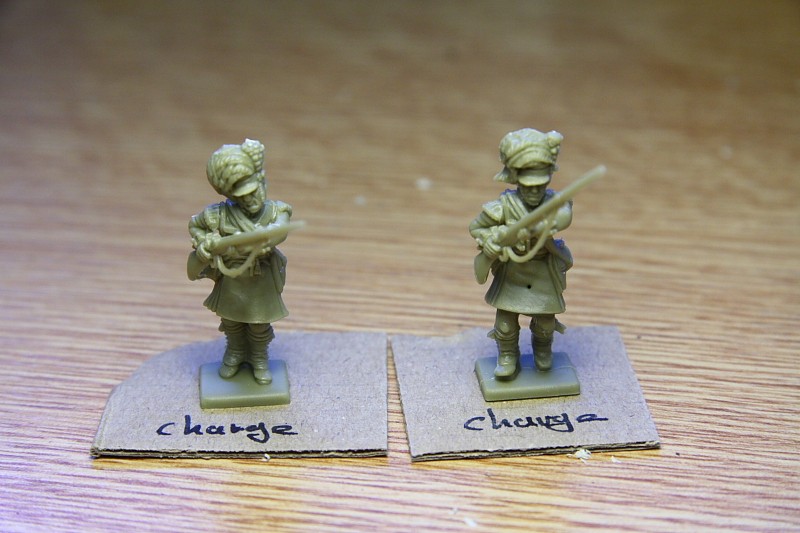 Charging position is a nice one as well. All parts are labeled so no issues there (arms are A5+A6 - bodies to choose between the advancing ones). I built them with the musket as vertical as possible because of future basing constraints, but their natural position is quite horizontal musket (that makes basing a nightmare and expose the bayonet to be broken too easily). There are arms to build 2 of those positions per set, so 8 per boxes.
(fr) La position de charge est belle. Toutes les pièces sont labellées, donc pas de problèmes ici (bras : A5+A6 - corps a choisir parmis ceux qui marchent/courent). Je les ai assemblés avec le fusil aussi vertical que possible du fait des contraintes de soclage à venir, mais leur position naturelle est le fusil presque horizontal (un cauchemard pour le soclage et le risque de casser la baillonette au premier faux mouvement). Il y a 2 paires de bras pour cette position par set, donc 8 par boite.
At porte position /
euh... au porté ???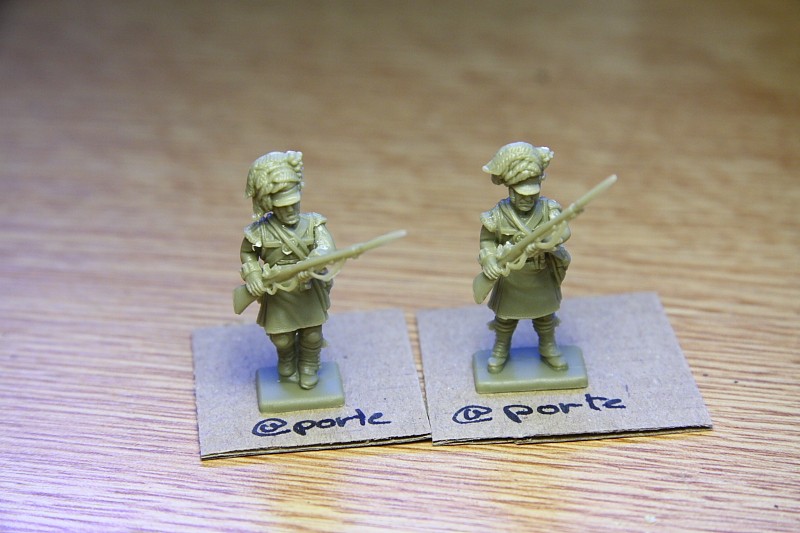 Here is the "at porte" position. Same notice as before trying to have them handling muskets as vertically as possible. The original position should be a bit lower, so the insurance you will break them in the back of front ranks if you base them in close formation. They are built with A3+A4 arms, and I tried a marching and a standing body. I feel both are fine and can eventually be mixed. No issues with them, arm parts are labeled. You can build 2 such positions per set, so 8 in a box.
(fr) "A la porte" ou "au porté" ? Aucune idée de ce que "at porte" peut bien vouloir dire ;-)... Quoiqu'il en soit, j'ai assemblé pour avoir les fusils aussi verticaux que possible et rester homogène avec les autres. A l'origine, les armes sont 1/3 plus horizontales... pile dans le dos des rangs précédents pour mon soclage : Casse garantie, d'où action. Ils sont composés des bras A3+A4, et j'ai essayé un corps "marche" et un corps "en atente". Je trouve que les deux rendent bien et peuvent être mixés sans trop d'incohérence visuelle dans une même unité. On peut faire 2 positions par set, d'où 8 par boite.
Various positions /
Positions variées
Here we enter in the "esoteric" part of the box. On left you see the "standing for cavalry" arm position. You have 1 position per set (A7+A8) and it is clearly intended for the kneeled body. I decided to mount this position on a standing body and even if not so natural, it mix well within the"march/attack" coherency of my targeted unit. The second one is one of the two undocumented reloading positions. I assemble this one because I feel it acceptable to be mixed within my targeted unit. I cannot give further references, but looking at the picture should help you to rebuild it from unlabeled arm parts (there are 4 unlabeled right arms per set). There is another reloading position I did not built for two reasons : First I do not want fire lines, so this second position, statically loading the gun by the top, could not mix OK with my unit. Second reason is that test assembly gave a result where the musket was not touching the ground, but perhaps was it me.
So to resume, from my personnal objective I will find 2 other acceptable "advancing" minis per set. Those interested by firing lines, could find 2 reloaders per set, 8 a box by using undocumented parts, keeping the "waiting for cavalry" for the kneeled body... or the "magical spare box" ;-).
(fr) OK, là on entre dans la partie "ésotérique" de la boite. Un peu du coté obscur de la force... mais tellement bon. La position de gauche est l'utilisation des bras "attente de cavalerie" prévus pour le corps agenouillé (même si ce n'est dit nulle part sur la doc) avec un corps "en attente". On peut réaliser 1 position par set, donc 4 par boite. Perso., je trouve le résultat acceptable mixé avec les figurines "marche/attaque" que je cherche à réaliser en priorité. La position de droite est obtenue avec les bras (non documentés) de l'une des deux positions d'en cours de rechargement. Comme ci dessus, l'homme armant sa platine restera acceptable noyé dans une unité en "marche/attaque". La seconde position de rechargement (non documentée elle aussi) n'a pas été utilisée pour deux raisons. Primo, je ne veux pas de ligne de feu, donc pas besoin d'une fig. rechargeant son fusil par la gueule, à l'arrêt, qui dénoterait avec l'esprit de l'unité, dynamique par essence. Ensuite, lors d'un assemblage à blanc, impossible de faire toucher terre à la crosse du fusil... mais bon, là c'est peut-être moi. Pour retrouver ces pièces non référencées sur la grappe, aidez vous des photos.
En conclusion, par rapport à mon objectif, je trouverais deux figurines de plus par set, 8 par boite. Ceux intéressés par une ligne de feu pourront y trouver 2 positions de rechargement par set, 8 par boite, et utiliserons les positions "attente de cavalerie" pour le corps agenouillé... ou la boite à rabiot ;-).
Never say Never /
Ne jamais dire jamais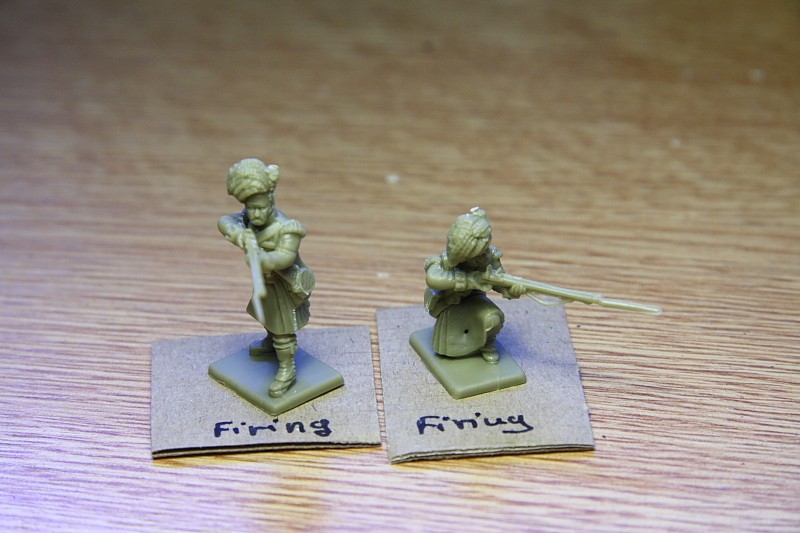 OK, I must admit those ones are firing. I do not especially want firing lines, but no parts remains to complete the set in the spirit of my targeted unit. So, I will use the two firing arms position per set (A1+A2) to complete the set. That will give me 8 firing minis a box I plan to base with standing shooters on second rank, kneeled shooters on first rank. I kept a standing body (left) for that and used the kneeled body (right - two parts) as well. One would prefer to use the "standing for cavalry" arm position (A7+A8) for the knealed body, but I found a better use of it on a standing position. Up to you...
(fr) OK, j'admets que ce sont des tireurs. Je ne souhaite pas avoir de ligne de feu, mais les pièces restantes ne me permettent plus de faire des figs dans l'esprit de l'unité. Donc, j'ai utilisé les deux positions de tirs (bras A1+A2) pour compléter le set. Cela me donnera 8 tireurs par boite que je répartirais comme suit : 1ere ligne - tireur à genoux / 2nd ligne - tireur debout. D'autres préfèreront utiliser la 1ère ligne à genoux avec les bras "attente de cavalerie", mais je les trouve mieux utilisés sur des corps debout (bras A7+A8). A vous de voir...
What wasn't used ? /

(fr) La boite à rabiot...
There is one arm position I did not use : the one with a musket handled low and horizontally, a bit as if running. Reason is that there are no really running bodies and also that this makes basing a Nightmare due to the horizontal musket going to the ... hmmm... bottoms (?) of the previous rank soldiers. In case one is interested by this position, you can build 2 per set, 8 per box.
As well several heads remains, some backpacks, arms, weapons (including a musket), etc...
(fr) Il y a une position de bras que je n'ai pas utilisé : celle avec un mousquet tenu bas et horizontalement de la main gauche. La raison est que cela illustre un coureur des bois, tenant son arme d'une main en pleine course, mais qu'il n'y a pas de coureur des bois dans la boite. Une autre raison, est que monter cette position fera que la baillonette du "coureur" sera planté dans le... postèrieur... des soldats du rang précédent. Douteux comme effet, et de toute façon inutilisable en première ligne, excepté pour faire des tirailleurs, mais c'est pas le but du jeu.
De plus, il reste un paquet de têtes, des sacs à dos, des armes (dont un fusil) etc...
Conclusion :
All in all a very nice box. Engraving is fine and crispy, cast is of high quality, and any box can be completed with numerous options while still keeping a global feeling once put in unit. Assembly is easy despite the number of parts and I have no doubts that units built with those models will be really nice. (not even talking of those planning a diorama with each mini receiving special customizing and art painting...).
The only annoying thing is the assembly documen... sorry : the assembly "non-documentation". But anyway, a little attention and thinking have never harmed anybody, and if it's the only gap to building those minis fine, it's well worth to make it.
Also, keep in mind I have my own basing constraints and unit objectives. All related notices in the previous (i.e. the vertical syndrom of the broken bayonet) can be adapted or even ignored if use a different basing or have a different objective (Diorama, simply collecting, etc...)
(fr) Tout bien pesé, une superbe boite. La gravure est fine et précise, le moulage de haute qualité, et la boite peut être totalement finie avec de nombreuses options tout en permettant de conserver un esprit d'unité une fois la boite achevée. L'assemblage reste simple malgrès le nombre de pièces, et nul doute que les unités qui sortiront de cette boite seront de premier ordre. (sans même parler de ceux prévoyant un diorama, chaque figurine recevant son lot de modification, scratch et une peinture "qui tue").
Le seul vrai point noir est la docum... euhhh... pardon... la "non-documentation" d'assemblage. Quoiqu'il en soit, un peu de réflexion et d'attention n'ont jamais fait de mal à personne, et si c'est un prix à payer pour monter ces petits bijoux ça le vaut très largement.
Enfin, n'oubliez pas que je me suis fixé des contraintes de soclage et de cohérence d'unité qui ne sont peut être pas les votres. La plupart des remarques effectuées (p.ex. le syndrome vertical de la baillonette cassée) peuvent peut-être être relativisées voire ignorée dépendant de vos propres contraintes et objectifs (p.ex. Diorama, simple collection vs. wargame, etc...)
Stay tuned,
A+,
Bruno.