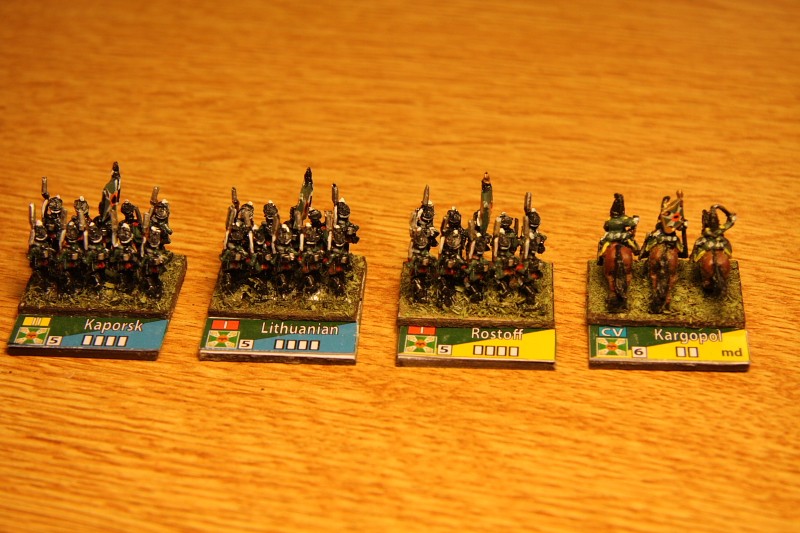 Hi,
A post to present my basing technic for VnB in 10mm. I converted all scales by an easy factor of 1cm for 1". That gives me a 3x3 infantry stand, and let play on smaller areas while still having a nice looking number of miniatures (i.e. 10 for infantry bases).
(fr) Un post pour présenter mon soclage VnB en 10 mm. J'ai adopté une conversion d'échelle d'1 cm pour 1", soit un rapport de 2,54. Cela me premet d'avoir des bases typiques de 3x3 cm, et donc de pouvoir jouer dans un espace plus restreint tout en conservant une apparence sympa aux bases (p.ex. 10 figs pour une unité d'infanterie).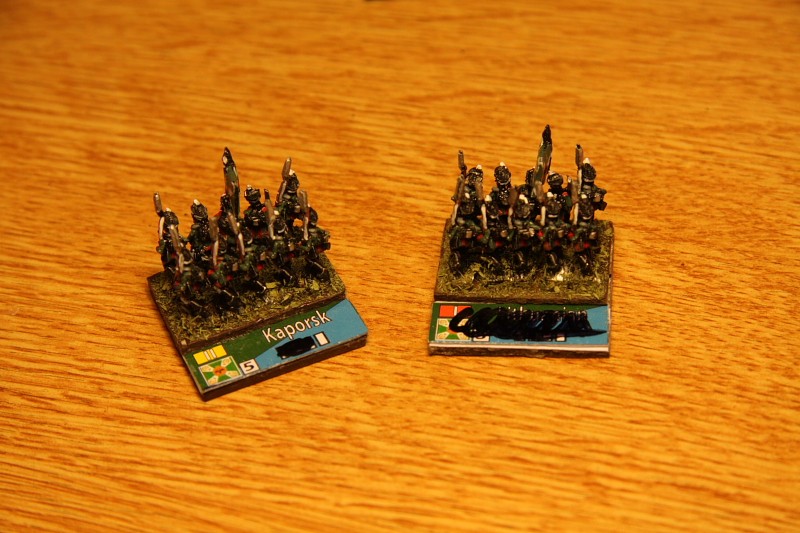 Real miniature bases are in fact 3x2 cms, and I simply glue them on a 3x3 "under" base. That let enough space on the rear to put all infos about units on a 3x1 cm info label. On the left you can see how a typical game would make use of those stands, first unit having only 1 strength point remaining, as the other probably have
generated a nervous break to it's owner when being destroyed ... ;-).
(fr) En fait, les figurines sont soclées sur une base de 2x3 cm. Ce socle est alors collé sur un socle de 3x3 cm, ce qui laisse la place pour un label d'information sur l'unité de 1x3 cm. C'est largement suffisant pour indiquer toutes les informations utiles sur l'unité. L'image ci-dessus, à gauche, montre l'état typique des socles en cours de partie. La première unité n'a plus qu'un point de force, alors que l'autre a probablement du énerver son propriétaire lors de son élimination ;-).
So, the question is :
"OK, those labels are nice, but what's new ? You'll still have to print them before any game, deploying them on the bases, handling them during game (i.e. not loosing labels while moving troops) and finally trashing them at the end
... " ... in fact this system solve those issues and more:
First, you do not need a paper army list to be updated while playing : All information is on the label. The upper part background color codes the Army number, the lower part the corp. On the top of the nationality flag is coded the Division, both by color and roman number. On the center you have the unit name, and on the lower part, the moral, strength points and characteristics as a string (i.e. md for a medium cavalry). Visually, on the table you can see immediately who is what, in which "state", and handle your command chain. No more need for paper army lists...
Second, you should never have to replace labels after a game... see next paragraph to know why, but perhaps you have ever guessed...
Third, this system will let you accelerate a game setting because... well... see next paragraph... (I know this is frustrating...)
(fr) Quand on voit l'image une question vient à l'esprit : " OK, ces labels sont chouettes, mais quoi de neuf là-dedans ? Il faudra toujours les imprimer avant chaque partie, les déployer sur chaque base, les gérer pendant (ne pas les perdre en déplacant les figs p.ex), et finalement les jeter après la partie..." ... en fait, ce système solutionne tous ces problèmes et même plus :
Tout d'abord, il n'y a plus besoin de liste d'armée papier à mettre à jour en cours de partie. Toutes les infos utiles sont sur le label : La couleur de fond supérieure indique l'armée, l'inférieure indique le corps. Au dessus du drapeau de nationalité un cadre indique la division par un code couleur et un chiffre romain. Au centre on trouve le nom de l'unité, et en bas le moral, les points de force et les codes d'unités spécifiques si besoin est (p.ex. md pour cavalerie de ligne).
Ensuite, les labels ne deraient jamais avoir à être réimprimés. Au cas ou vous n'auriez pas deviné pourquoi, on va voir ça juste après...
Enfin, la mise en place des labels sur les bases est ultra-rapide accélérant grandement la mise en place du jeu. On va voir pourquoi maintenant...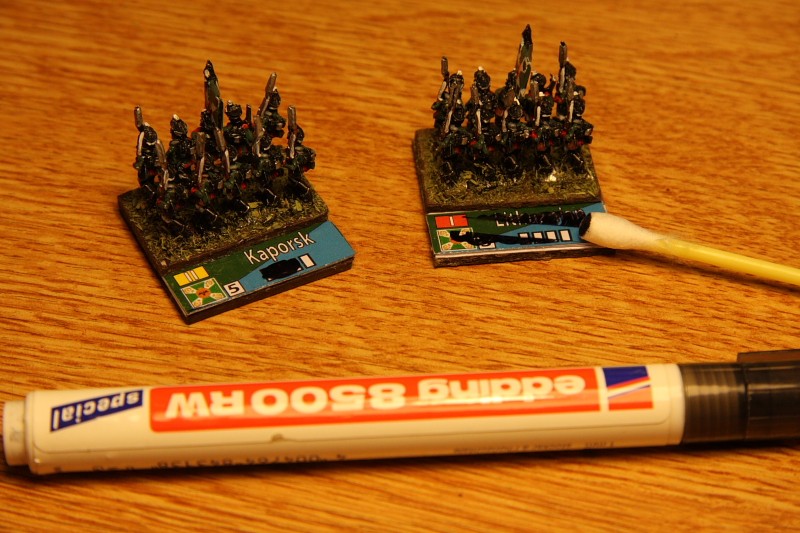 On the top picture you can see why labels should only be printed once : They are protected by a clear plastic transparent sheet. For this I use transparent A4 soft sheet such as those sold for creating slides with a printer. The trick is to glue a piece of transparent sheet under the miniature base only (the 3x2 one) that exceed the size of the underlying base (the 3x3 one), extending to the rear. Then, just glue the miniature base on the top of the underlying base (the 3x3 one) but only put glue on the forward part of it. You should have a glue-free space between the two bases, about 5+mm on the rear of the miniature base (the 3x2 cm one). Once glue have dried, I use an X-Acto to eliminate excess of clear sheet so to match exactly the base size. Then printed labels will be created on a 3x1.5 cm strong paper. Once created, they are inserted between the 2 bases, will hold fine because of the 5mm part of label contained between the two bases, and will be protected by the transparent sheet once in place. Next paragraph shows that label setting.
Last, when gaming, use a
non permanent
CD marker such as the one on the picture. When game is over, use a coton tip, wet it with water, and the cleaning is done in one whip... Cool, isn't it ? I made the test to let ink dry for 3 days before cleaning : I had no issues, and base was like brand new...
(fr) L'image ci dessus donne la solution, et montre pourquoi les labels n'auront à être imprimé qu'une seule fois : Ils sont protégés par une feuille de plastique transparent. J'utilise des feuilles A4 vendues pour créer des transparents sur une imprimante. Le truc est de coller sous le socle des figurines (celui qui fait 3x2 cm) un bout de transparent qui couvre 1 cm de plus vers l'arrière. Ensuite, on colle le socle figurine (le 3x2cm) sur le socle de base (le 3x3cm) en faisant attention à ce qu'il n'y pas de colle sur les 5 derniers millimetres arrières du socle figurine. Une fois tout ca sec, il suffit d'imprimer les labels sur du papier fort avec une taille de 3x1,5cm, et les 5 millimetres qui restent serviront a maintenir le label entre les deux socles, protégé par la feuille de rhodoid transparent.
Le paragraphe suivant détaille la mise en place...
Durant le jeu, les pertes peuvent alors être marquées sur le rhodoid à l'aide d'un feutre pour CD
non permanent
comme celui de la photo. Une fois la partie finie, il suffit d'un coton tige humide et le socle redevient comme neuf... J'ai testé de laisser sécher l'encre pendant 3 jours avant le nettoyage : aucun problème pour avoir un socle nickel...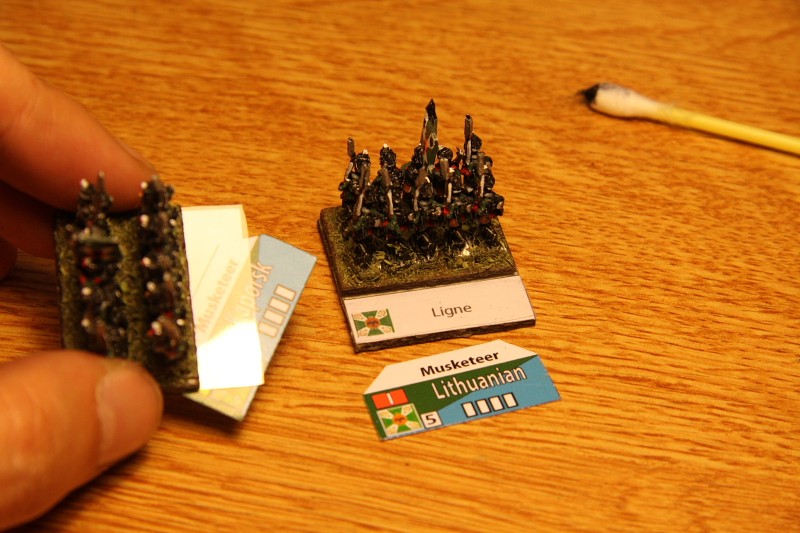 This picture shows three interesting things.
On the left, you see an half inserted label. By light reflection, you can see the transparent protection. Inserting/removing the label is a matter of a second. Once in place, it won't move, but can be easily removed by slightly lifting the transparent sheet.
On the right you can see two things :
First, is the ID embeded on the label. From this I can see that this is the Lithunian Musketeer regiment, moral 5, 4 strength points, from 1st Russian army (dark green) / 3rd Corp (blue) / 1st Division (red box + I ). Identifying troops on the table and checking their command chain is now immediate without any paper help.
Second, you can see that this unit have an underlying label of "ligne" with the russian flag. As well you will notice that the troop type is written on the top of the label, in the part that will be hided between the two spaces. This is why you will accelerate the game set-up. Each base is labeled by it's nationality (flag) and type ("ligne" is French for "Line", so means musketeer for Russian troops). This underlying label is glued on the rear of the bottom base (the 3x3 one) prior to gluing the two bases together and is permanent to label the base troop type.
This way, you do not have to search for your troops before inserting the specific label for the game you plan to play. Take a label and look at it's top 5mm (Unit type, i.e. Musketeer) , take a matching type troop unit (i.e. Russian Line), insert the label, goto next one... This is really fast, and you do not need to take care of who is who : with colour code on the labels, once all are inserted, organizing you armies/corps/divisions is nothing more than trivial and instantly done.
Once game is over, just remove your labels, put them in an enveloppe stating which army list/OOB it contains, eventually clean the base, and say bye to your opponent waiting for next game.
Labels are totally re-usable
"ad vitam eternam"
(or so) if you take minimal care of them. You should have to print and cut them only once...
(fr) La photo ci dessus montre trois choses intéressantes :
A gauche, vous pouvez voir un label à demi inséré. Par la réflexion de la lumière, on voit bien le rhodoid transparent de protection. Notez aussi les angles découpés en haut du label facilitant l'insertion. Insérer/oter un label est l'affaire d'une seconde. Une fois en place, ils ne bougeront pas, et pourront être retirés en soulevant légèrement l'arrière du rhodoid de protection.
Sur la droite, on peut voir deux choses :
Primo, l'ID du label. On y apprend que l'on a affaire au régiment d'infanterie de ligne "Lithunian", moral=5, 4 points de force, de la 1ere armée russe (Vert foncé), 3eme Corps (bleu), 1ère Division (I sur fond rouge). Identifier les troupes sur la table et controler leur chaine de commandement est donc un jeu d'enfant... et ne requiert l'aide d'aucune liste d'armée papier.
Deuxio, le socle de l'unité est marqué "Ligne" avec un drapeau Russe. De même, les 5mm supérieurs du labels indiquent "Musketeer". C'est là que le déploiement du jeu est accéléré : Chaque base indique le camp et le type de la troupe. Ces informations sont permanentes pour la base, et sont collées sur la base de 3x3 avant l'assemblage final.
De cette manière, pas besoin de chercher qui est quoi lors de l'insertion des labels : c'est écrit dessus. On prend un label - c'est un "musketeer"- on prend une base russe - Ligne, on insère le label et on passe au suivant. Une fois les labels en place, l'assemblage des Armées/Corps/Divisions est trivial par les codes de couleurs. C'est extrèmement rapide...
Une fois le jeu terminé, on ôte les labels et on les range dans une enveloppe indiquant l'ODB ou autre, on nettoie éventuellement les bases (ca peut attendre), et on dit au revoir à son adversaire jusqu'à la prochaine...
So, now, what about the "look and feel" of such bases with somewhat few miniatures and a big label on back of them ? Thereafter are some pictures to give an overview :
(fr) N'empêche, on peut se poser la question de savoir ce que donne le visuel de telles unités sur une table : peu de figurines, un label conséquent à l'arrière... ? Ci-après quelques photos pour vous donner un aperçu :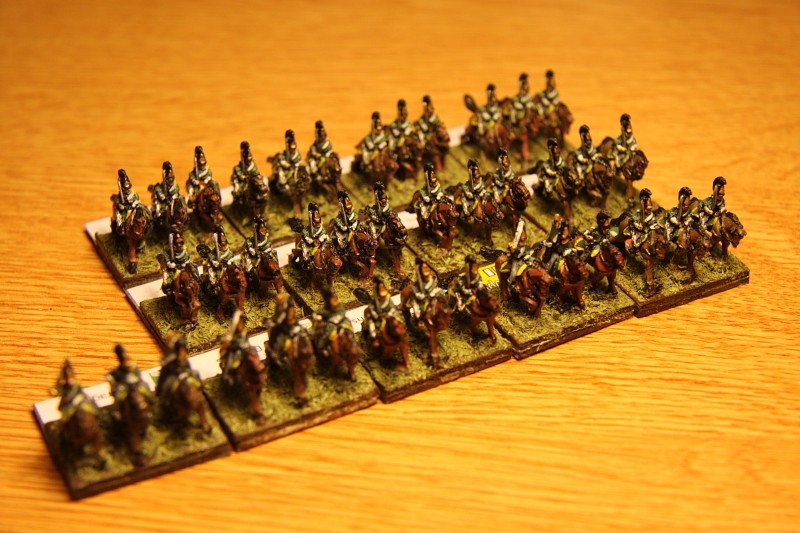 Top picture shows 13 russian dragoon bases. Quite all bases are without labels, so simply showing type and nationality through the transparent protection. Next are some pictures of my current workbench. Here are some line infantry, Dragoons, Chevaux Légers and artilleries on the French side, and Musketeers and Dragoons on the Russian side. You can also see size comparison between on-going 28mm projects and those sweet little 10mm things... Those 10mm things really are too sexy...
(fr) Ci dessus, 13 plaquettes de Dragons russes. Notez que pratiquement toutes les bases sont présentées sans label, contenant simplement le type et la nationalité. Ci dessous, quelques vues d'ensemble du workbench avec de la ligne, des dragons, des Chevaux Légers et de l'artillerie coté Français, de la ligne et des dragons coté Russe. Notez la taille par rapport aux figs. 28mm en cours... C'est trop mignon le 10 mm ...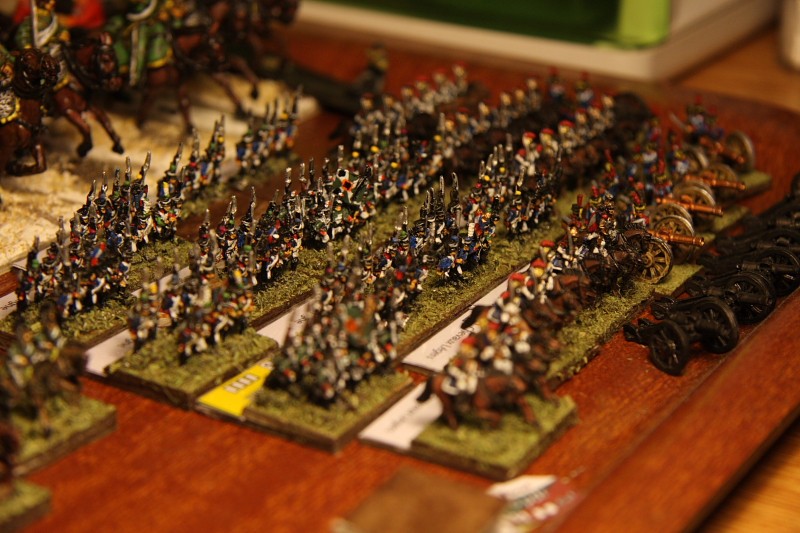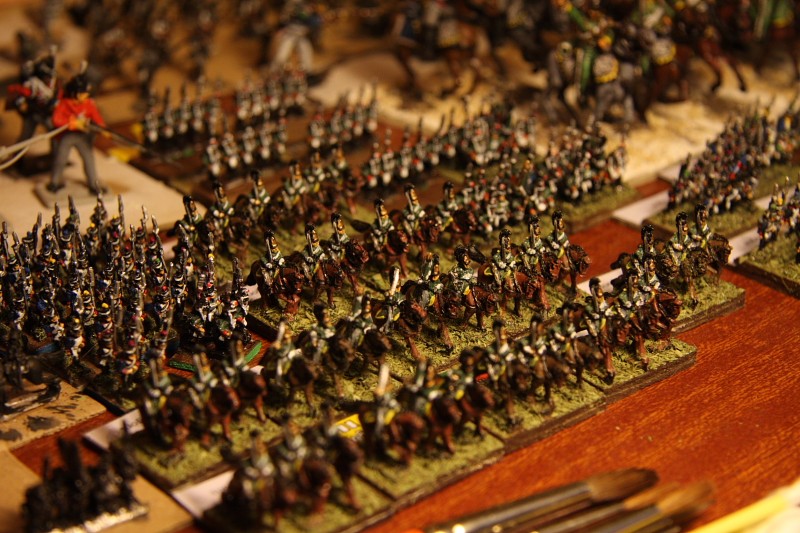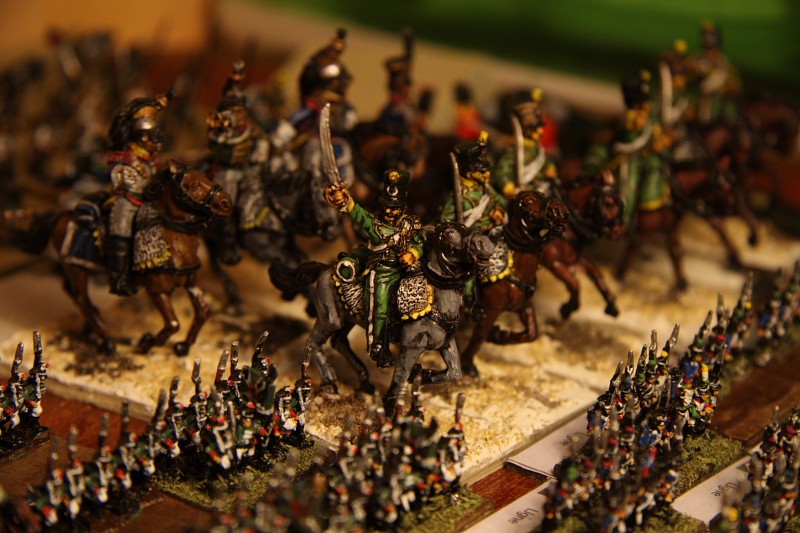 Hope you enjoyed, and will share more on this 10mm project. (soon I hope)
(fr) J'espère que vous aurez appréciés et publierai plus d'infos sur ce projet en 10mm prochainement (j'espère) .
Bruno.